When you purchase products or services through our links we and our partners earn a small commission. Thank you.
$100 Million Yacht Tour : 297 ft Superyacht Nero
This week, we are touring M/Y Nero, one of the most elegant, sophisticated, and comfortable yachts we have ever been on.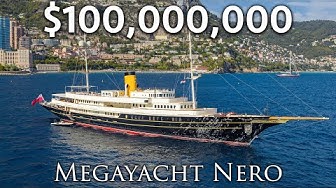 Yacht: Nero
https://www.burgessyachts.com/en/char…
Charter Price €497,000 per week
Yacht Specs:
Length 90.1 M (296ft)
Beam 12M (39ft)
Tonage 1,423 Tons
6 State Rooms
2 X Mac Engines, 1,740 HP Each
12 Knot Cruise
12 Knot Top Speed
Listed By:
Burgess
Burgess' Instagram: @burgessyachts
https://www.instagram.com/burgessyachts/
Yacht Description:
The most head-turning yacht on the planet is ready to welcome you back on board and you will be thrilled with her new features. After an extensive 2021 refit and upgrades, NERO is available for charter once again, with a host of crowd-pleasing new features.
NERO, the queen of any anchorage anywhere in the world, has an all-new state-of-the-art gym on the sun deck with top-of-the-range Technogym kit including a Kinesis, treadmill, cross trainer and a cardio bike. You will also find loose weights and everything needed for yoga and pilates including a qualified physical trainer as part of the crew.
Another new feature is the beauty salon on the upper deck, complete with a professional Nilo chair, which not only enables manicures, pedicures and hair treatments, but also converts into a massage table. After your treatment by the crew's very own beautician and masseuse you can freshen up in the en suite bathroom and shower and emerge energised and ready to take on the world. She also has a second massage room if you need a change of scene. Outside she looks utterly immaculate following a full repaint and deck refresh. Inside the great Laura Pomponi has introduced new handmade carpets throughout and a new hardwood floor in the sky lounge, new soft furnishings and fabrics, new sofas in the main guest areas and a scattering of new artworks.
Younger guests will also be delighted to know about the upgraded Icon AV/IT system, which enables streaming for all devices and a genuinely theatrical experience in the observation lounge cinema. They will also be delighted to find out about the two new pizza ovens in the completely rebuilt galley.
It's not just NERO that's received all the love, her distinctive 9.5m Corsair custom-built tender has been completely refitted so guests can arrive in impeccable style. Add a new inflatable waterslide and five box-fresh SeaBobs to an already-packed toy garage and it's clear that NERO is in absolutely tip-top charter condition. If you feel like being the center of attention while working on your fitness, pampering yourself, dining exquisitely, swimming in the pool, practicing your golf swing and having a whale of a time on the water, you need look no further than NERO."
If you found this video helpful and know of someone that would benefit from this video, please share it. 🍻🇺🇸📣
Heavily researched. Thoroughly vetted.