When you purchase products or services through our links we earn a small commission. Thank you.
3 x rye WHISKEY cocktails that will knock your socks off!
Tis the season to be breezin!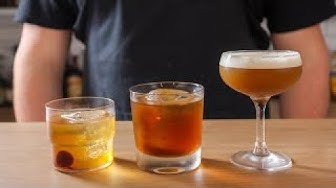 Page Sponsored by: Partisan For The People 👀👯‍♀️
Use my link (https://bit.ly/shaker-spoon) or use the coupon code "stevethebartender" to get $20 off your Shaker & Spoon subscription!
The team at Shaker & Spoon collaborate with bartenders to create 3 unique and tasty cocktails for each subscription box featured around one liquor. S&S sent me their All Eyes on the Rye, I picked up a bottle of Rittenhouse rye (https://shrsl.com/3rfqn) and this is the result!
Baklava Sour Cocktail Recipe
2 oz – rye whiskey (60ml)
0.75 oz – lemon juice (22.5ml)
0.75 oz – baklava syrup (22.5ml)
2 dashes of cardamom bitters
0.5 egg white
Baklava syrup = wildflower honey, almonds, roasted walnuts, rose water, orange blossom water, citric acid
Creole Sling Cocktail Recipe
2 oz – rye whiskey (60ml)
0.5 oz – cold brew coffee (15ml)
0.25 oz – cinnamon + vanilla infused maple syrup (7.5ml)
3 dashes of chicory bitters
Homestead Old Fashioned Cocktail Recipe
2 oz – rye whiskey (60ml)
0.5 oz – winter spice syrup (15ml)
3 dashes of black pepper bitters
3 dashes of orange bitters
Winter spice syrup = cane sugar, green cardamom, cinnamon, pink peppercorn, cloves, citric acid
If you found this video helpful and know of someone that would benefit from this video, please share it. 🍻🇺🇸📣
Heavily researched. Thoroughly vetted.