When you purchase products or services through our links we and our partners earn a small commission. Thank you.
5 MUST ADD Players on the Week 14 Waiver Wire | Dynasty Fantasy Football 2022
Addison identifies a handful of players you should be adding of of the waiver wire in your dynasty fantasy football leagues ahead of Week 14! Talking guys like Mike White, Zonovan Knight, Tyler Huntley and more for fantasy waivers Week 14! He breaks down several waiver wide adds in Week 14, like Knight, that you should be looking at in fantasy football. Discussing players on the Jets, Ravens and more!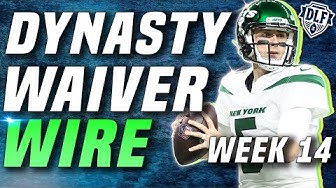 If you found this video helpful and know of someone that would benefit from this video, please share it. 🍻🇺🇸📣
Heavily researched. Thoroughly vetted.