When you purchase products or services through our links we earn a small commission. Thank you.
A Colonial Christmas With The Pineapple Syllabub
Today's drink is a throwback all the way to George Washington's America. It was not only a very fashionable drink of the era but also a close cousin to (if not a precursor of) Egg Nog. A little further info on the drink is that it's based on a dish found in Cornish Cuisine also called a Syllabub which is made by curdling sweet cream with an acid like cider or wine and was popular from the 16th to 19th centuries. OK! That's all folks! Enjoy the drink!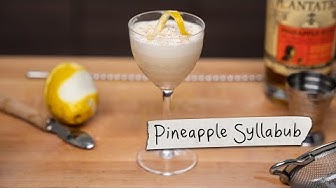 Pineapple Syllabub
1.5oz (45ml) Pineapple Rum
1oz (30ml) Heavy Cream
.25oz (7.5ml) Honey Syrup 3:1
.5oz (15ml) Lemon Juice
1/8 Tsp Lemon Zest
Fresh Nutmeg Garnish 
For Pineapple Rum:
1/2 A Pineapple peeled, cored and cubed
1 liter medium bodied aged rum add rum to a glass jar with a tight fitting lid for 3 to 4 days after which strain into a bottle. Should last a few months. (or Sous Vide at 135 degrees for 2 hours)
If you found this video helpful and know of someone that would benefit from this video, please share it. 🍻🇺🇸📣
Heavily researched. Thoroughly vetted.