When you purchase products or services through our links we earn a small commission. Thank you.
It's Apple Brown Betty! This classic American dessert combines fruit, bread crumbs and topped with ice cream. This delicious delight will dominate the dessert table at your holiday gathering. Baked on the Yoder Smokers Wood-Fired Oven.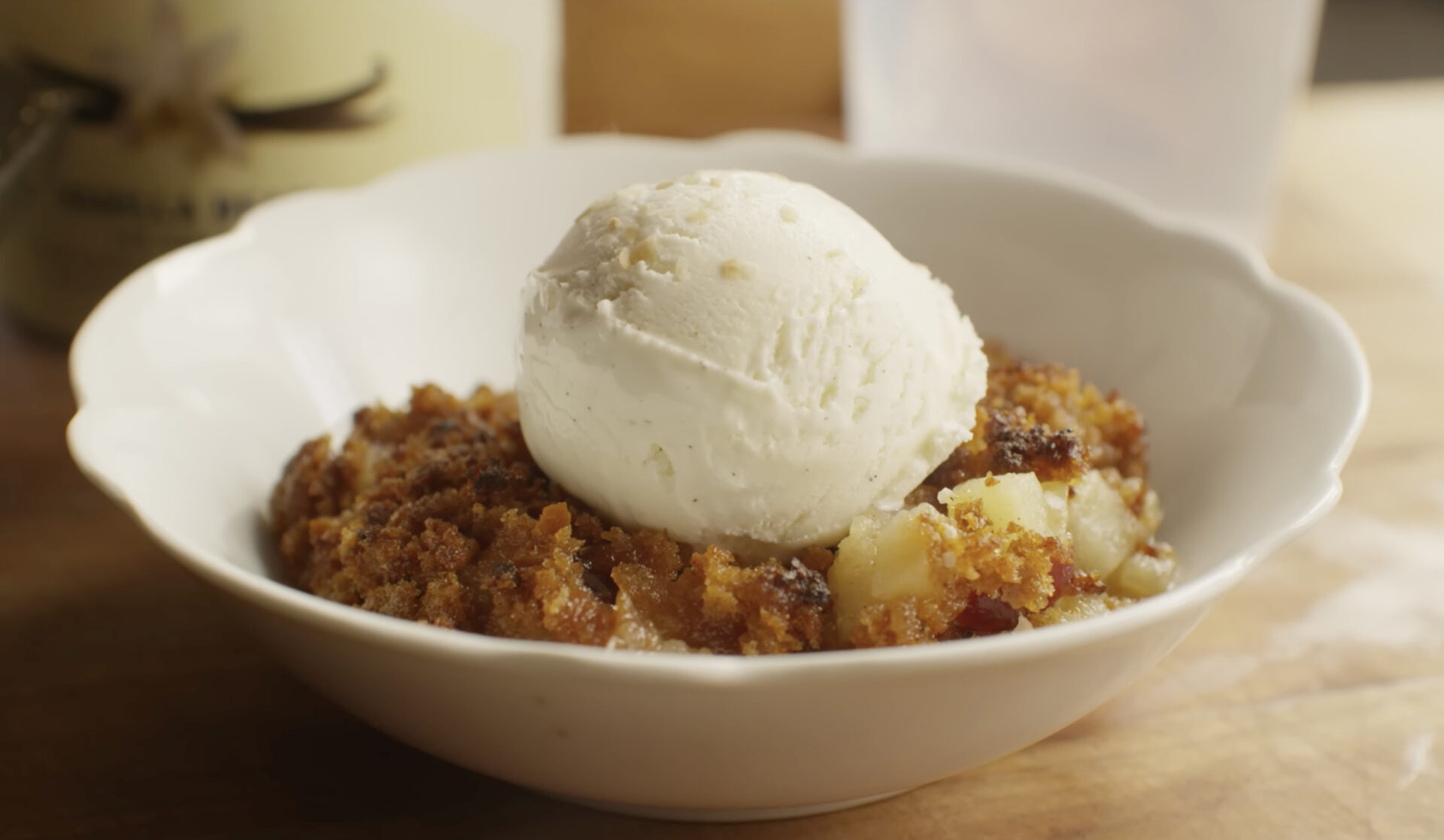 Ingredients
3 lb granny smith apples, peeled, medium dice

1 tbsp lemon juice

2 cups toasted bread crumbs (from day old croissants & challah)

3/4 cup unsalted butter, divided

1/2 cup brown sugar

1/4 cup Noble Saltworks Maple Smoked Turbinado Sugar

2 tsp cinnamon

1/2 tsp Noble Saltworks Whiskey Barrel Smoked Salt

1/4 cup dried cranberries

1/2 cup apple cider/juice

Vanilla ice cream
Directions
Preheat your Yoder Smokers YS640s Pellet Grill to 375ºF with the Yoder Smokers Wood-Fired Oven installed.
To make the breadcrumbs, cube your challah and let sit on a wire rack overnight, covered loosely with a tea towel. The next day, after your grill is preheated, transfer the wire rack filled with cubed bread to the top of the wood-fired oven and close the lid of the pellet grill. Let toast for 20 minutes at 350ºF, then remove and let cool at room temperature. When cool, transfer to a food processor and process until broken down into crumbs.
Combine the dried cranberries and apple cider/juice in a microwave safe container. Microwave for one minute. Let stand for 20 minutes to rehydrate the cranberries.
Melt four tablespoons of butter. Reserve the final tablespoon for greasing the skillet. Combine the melted butter with the breadcrumbs, sugars, cinnamon and Noble Saltworks Whiskey Barrel Smoked Salt. Mix well.
Using the last tablespoon of butter, grease a Lodge 10" Cast Iron Skillet.
Add half of the apples to the skillet. Add half of the rehydrated cranberries to the apples. Sprinkle half of the seasoned bread crumbs over the fruits. Then, repeat the process, layering on more apples, cranberries and breadcrumbs.
Transfer the skillet to the Yoder Smokers Wood-Fired Oven and bake for 30 minutes. If the topping is getting too dark, cover with foil and continue cooking until the apples are tender, about 45-55 minutes total.
Serve hot, topped with vanilla ice cream.
If you found this video helpful and know of someone that would benefit from this video, please share it. 🍻🇺🇸📣
Heavily researched. Thoroughly vetted.