Top stories in arts and entertainment
Jimmy talks about driving to work this morning and amusing himself during the pandemic, Joe Biden gave an update about the availability of COVID tests, the January 6th Storm Trumpers are finally getting rounded up and the Justice Department charges 11 people with "seditious conspiracy," Congresswoman Marjorie Taylor Green and Senator Ted Cruz continue to push bananas conspiracy theories about who was responsible for the insurrection, a new patch is being developed to help men last longer in bed, a collegiate baseball team in Portland is doing damage control thanks to their new mascot, and This Week in Unnecessary Censorship.
Read More »
Millions of Twitter users were left dumbfounded and thoroughly amused after a clip of Fox News host Laura Ingraham trying to talk about You went viral online. Penn Badgley, who stars in the hit Netflix series, was one of them.
Read More »
"It still blows my mind every day I wake up how my family and the conservatorship were able to do what they did to me. … I'm not even mentioning all the bad things they did to me which they should all be in jail for."
Read More »
"A moment that you think is between two people that love each other very much is now a moment that is shared with the entire world."
Read More »
There's so much to unpack in this trailer, from the confirmed appearance of several beloved Spider-Man villains from other films to the heartbreaking shot of MJ falling to her "death"…
Read More »
"I wanted you to have everything I never had… I'm so sorry if what I've done makes you feel sad."
Read More »
"The issue was photographed and printed prior to the tragic events in Houston," a spokesperson for W told BuzzFeed News.
Read More »
"They kind of fall in love in that scene in the film. It's that explosive moment that happens to happen to them on a stage in front of thousands of people," he continued.
Read More »
"The chemistry just wasn't there. It just sucked."
Read More »
The pair appear to have split up since filming.
Read More »
In a new Instagram post, Spears said she wants to be an ally and had some more words for her family.
Read More »
"I totally ship Maggie and Diana," the actor says.
Read More »
2022 will surely bring forth the most fascinating documentaries covering Donald Trump — as more facts are discovered and disclosed through the release of books and the J6 Capitol Attack investigation. But, here is our most highly recommended documentaries to date. These documentaries, collectively, portray the true story of America's most wanted man.
Read More »
MyPillow CEO Mike Lindell's TV interview was interrupted by a man who reeled off a series of backhanded compliments for the Donald Trump-supporting conspiracy theorist.
Read More »
Improvisation is a sword most actors learn how to wield. However, only the ones who've mastered the art can come up with an absolutely killer line on the spot, often making for some of the most memorable movie moments.
Here are 17 iconic movie lines actors came up with on the spot:
Read More »
Steven Spielberg's daughter, Destry Spielberg, is addressing claims of nepotism when it comes to her upcoming short film, The Rightway.
Earlier this week, Deadline reported that actor Hopper Penn, who is the son of Sean Penn, had joined the cast of the film, which is set to be directed by Destry, 24. The movie is also written by Stephen King's son Owen King and stars Brian d'Arcy James, whose uncle is the late Blade Runner producer Brian Kelly.
"People can argue nepotism, but I know deep down that I worked hard to get where I am and it wasn't easy," Destry Spielberg said.
Read More »
The sudden rise and precipitous fall of Newsmax, explained by an expert.
Read More »
He has the cunning of a fox and the charisma of a salted slug. This is the Daily Show-ography of Mitch McConnell.
Read More »
Nice to see Fox News finally being honest about the Trump-Putin summit.
Read More »
Some of our favorite monologue moments from the week of June 7th, including a return to form for the Senior Vice President of Late Night Programming, James reveals behind-the-scenes secrets, and a sexy plan to get more Americans vaccinated.
Read More »
John Oliver explains how the failure to air-condition prisons can cause both physical and mental health issues for incarcerated people, and why the solution is simpler than you might think.
Read More »
Americans are beginning to re-enter society, and some of them have forgotten how to behave: They're acting up at sporting events, in stores, on planes and anywhere else they can manage to get into trouble.
Read More »
James and Reggie kick off the show with a major vibe and they explore the famous one-name celebrities and check in on the crew's weekend plans. After, James has a stroke of genius about the news that makes CBS Senior Vice President of Late Night Programming (West Coast) Nick Bernstein very happy. And President Joe Biden's trip to the United Kingdom leads to James, Ian and Louis Waymouth debating the pronunciation of words.
Read More »
James welcomes a pair of mothers and their children to compete in a game of Face Your Mother, where secrets of all sorts come to light including tattoos and butt implants!
Read More »
Seth takes a closer look at Senate GOP leader Mitch McConnell declaring an end to bipartisanship as President Biden continues fruitless talks with Republicans.
Read More »
The national embarrassment Jimmy Kimmel has termed "Squattergate" – Donald Trump's refusal to acknowledge Joe Biden as the winner of the presidential election and facilitate the transition of power – sputtered along on Tuesday evening, the day before the deadline for the Trump campaign to request a recount in Wisconsin. The recount for a state Biden won by over 20,000 votes would cost the Trump campaign $8m, "which is why he's asking his supporters for $16m – a little walking around money on the side," Kimmel joked.
"The only way Wisconsin is getting $8m from Donald Trump is if it has sex with him 63 times."
With the Georgia presidential vote audit wrapped up, all eyes now shift politically to the two Senate runoffs in the Peach State.
Because Black people are disproportionately targeted by police, many parents are forced to have "The Talk" with their young children about how to best navigate this tragic reality. #DailyShow​ #TrevorNoah​ #TheTalk​
Just surviving will be a huge success for most small businesses this year.
The president's personal attorney, Rudy Giuliani, and legal team held a press conference at the RNC that undermined the 2020 election.
Today we learned that the NY Attorney General's office is pursuing a criminal investigation into the Trump Organization in New York, in addition to the civil investigation and the criminal probe led by the Manhattan District Attorney's office. Former personal Attorney to Donald Trump Michael Cohen joined Joy to discuss.
Former President Trump on Thursday asked a federal appeals court to temporarily bar the National Archives from releasing records to the House select committee investigating the Jan. 6 insurrection.
2021 fantasy player outlook for Tyrell Williams, WR, Detroit Lions (6/23) Advice: After missing all of 2020 recovering from significant shoulder surgery, Tyrell Williams will vie to be among the Lions' top receiving options in training camp this summer. It wasn't too long ago when Williams was a key figure in the Chargers passing game, speeding downfield and using his tall, lanky frame to win contested catches. He was doing that for then-head coach Anthony Lynn, who is Williams' offensive playcaller now. Detroit figures to be playing from behind a bunch, and even with Jared Goff at quarterback, Williams has a really good shot to post his second-ever season with 70-plus targets. Heck, 100 targets is even in range provided he stays healthy and on the first-team offense through the preseason. Williams carries mild appeal as a bench receiver worth looking at starting in Round 12. (CBSSports.com)
More: Highlights | Draft Scout | Contract | Profile | Stats | News | Depth Chart | Discussion | Shop
Texas Sen. Ted Cruz called the US military "woke" and "emasculated" compared to Russia's military in a tweet on Thursday.
Cruz based his criticism on a TikTok video comparing a Russian recruitment ad with a US Army commercial. While Russia's ad featured moody lighting and buff, shirtless men writhing in the dirt, the US Army clip offered an animated telling of the life of US Army Corporal Emma Malonelord, who was raised by a lesbian couple in San Francisco.
Cruz's office did not immediately respond to Insider's request for additional comment on the tweet.
James Corden recaps the news of the day, including President Donald Trump's legal team holding a press conference dominated by Rudy Giuliani and his ill-applied hair dye.
2021 fantasy player outlook for Sam Darnold, QB, Carolina Panthers (6/23) Advice: Sam Darnold was traded from the Jets to the Panthers this offseason, and hopefully the change of scenery will help him in Fantasy and reality. Darnold has struggled in three seasons as the starter for the Jets, and his best season was 2019 when he averaged just 17.4 Fantasy points per game. He's coming off a season-low 11.8 Fantasy points per game in 2020, but hopefully getting improved weapons in Carolina (Christian McCaffrey, D.J. Moore, Robby Anderson and Terrace Marshall), along with better coaching, can help Darnold turn into a quality player. He's still just a No. 2 Fantasy quarterback in all leagues, and he's not worth drafting in one-quarterback formats. In two-quarterback and Superflex leagues, Darnold is worth a mid-round selection. (CBSSports.com)
More: Highlights | Draft Scout | Contract | Profile | Stats | News | Depth Chart | Discussion | Shop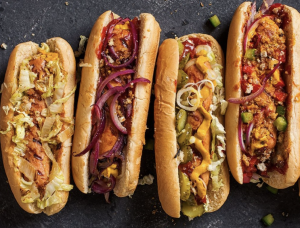 Step up your hot dog game with a gourmet touch.
If the new president has any chance of beating Mitch McConnell, he needs to keep it simple, and stay on the side of suffering people.
With the Super Bowl yet to be played, it's, unfortunately, time for the Green Bay Packers to direct their full attention toward the offseason. While the more immediate need is to fill the defensive coordinator position, we'll take a moment and focus on the all-important 2021 NFL Draft by conducting our own mock draft.
A man accused of taking part in the Jan. 6 Capitol riot told a federal judge he was ashamed of what happened and hoped to move on with his life during a detention hearing Tuesday.
Scottsdale and the Phoenix area offer amazing dining options and amazing places to stay — and some of the best golf in the world. We put together a list of the most highly recommended golf courses in the area, according to GolfNow.com.
Former President Donald Trump's political action committees combined to spend just over $7.9 million on legal fees, with much of it going toward lawyers who attempted to overturn the 2020 election and defended him during his second impeachment trial.
Four committees linked to Trump made the payments during the first half of 2021, filings show. The Make America Great Again PAC paid out just over $7.8 million of the total legal expenditures. The committee is Trump's former campaign account. His team turned it into a PAC earlier this year.
From hoodies to mugs we have put together a collection for the ages — featuring our cover girls, famous quotes, and more.
Galliano | Triple Sec | Orange Juice | Cream
"I wanted you to have everything I never had… I'm so sorry if what I've done makes you feel sad."
President Joe Biden's $1.9 trillion coronavirus relief plan would provide a third round of federal stimulus checks to millions of Americans. Yet while lawmakers on both sides of the aisle have expressed support for the proposal, there is less agreement on who should be eligible for the $1,400 direct payments.
After five states — Arizona, Mississippi, Montana, New Jersey and South Dakota — passed ballot measures for marijuana use last week, the drug will soon be legal in some form for 70% of the U.S. population. A third of the country won't even need a medical excuse. But that's not the surprise.
Apparently, Trump supporters don't need evidence to make their points. Watch the full special, Jordan Klepper Fingers the Pulse: Into the MAGAverse on Paramount Plus.
Donald Trump is citing unsubstantiated urban myths and a contested academic study to paint a false narrative about rampant voter fraud in the U.S. and the likelihood of a "rigged" election.
Naimish Baxi, M.D., 37, a physiatrist specializing in spine and sports care, has seen an uptick in back pain thanks to pandemic home-office hunching, excess couch time, and overzealous home workouts. Even this assistant professor at Weil Cornell Medical College and physiatrist at New York's Hospital for Special Surgery, has to remind himself to sit right and to lift right. Here's what he does to keep his back in line:
Najee Harris 2021 Outlook: A Top 10 Fantasy RB (6/23) Advice: Look for Najee Harris to be used early and often. He is going to surpass 1,000 yards rushing and can get close to the LeVeon Bell status as a receiver as well. This makes him an early fantasy pick as the rookie RB most likely to crack the top 10. The run game in Pittsburgh will be back. Harris is a worthy RB2 pick for your fantasy team and should be considered amongst the likes of Austin Ekeler and Chris Carson in the second or early third-round of your fantasy drafts. He will not disappoint you. (RotoBaller.com)
ADP: 1.03 — 15.11
More: Highlights | Draft Scout | Contract | Profile | Stats | News | Depth Chart | Discussion | Shop
Born: March 9, 1998, Martinez, CA
CNBC's Contessa Brewer reports on where the relief bill currently stands, even as President Trump threatens to veto and unemployment payments are about to end. With Politico's Ben White.
2020 PAUL HORNUNG AWARD FINALIST: Michael Carter, Senior running back/return specialist, North Carolina,…Carter played in all 11 games as a big play running back and outstanding pass catcher who also handled kickoff returns. He averaged 8.0 yards per carry (third nationally), 10.7 yards per catch, and 151.6 all-purpose yards per game (13th nationally). Carter was second in the nation with runs of 10+ yards and averaged 10.4 yards per carry in games against teams in the Top 25. He compiled 308 all-purpose yards and two scores against Miami, and 251 all-purpose yards and two scores against Virginia Tech. Carter made the Paul Hornung Award Weekly Honor Roll four times: against NC State, Duke, Wake Forest and Virginia Tech, touching the ball three different ways and accumulating 100+ all-purpose yards and touchdowns in each game. – The Louisville Sports Commission
Regardless of the shifting parts, the 2022 NFL draft has already started to take form, even if not in a manner that's anywhere close to complete. And with the season over for 18 of the league's 32 franchises, it's time to look ahead to what April might hold.
D.J. Chark Jr. Fantasy Football Outlook (2021) (7/9) Advice: There are many trying to figure out the target share for Laviska Shenault, Marvin Jones, and Travis Etienne, but the one who's the clear-cut No. 1 option on this team is Chark. If Trevor Lawrence turns out to be the real deal, Chark can be the 2021 version of Tee Higgins when he was with Joe Burrow (was the No. 11 wide receiver in eight full games with Burrow). Chark already flashed WR1 potential in 2019 when he racked up 73 receptions for 1,008 yards and eight touchdowns with the combination of Gardner Minshew and Nick Foles, so why can't he be more with Lawrence? The coaching staff is a big question mark, but you don't draft Lawrence to run the ball 40 times per game. Chark comes with some risk but even more upside. (FantasyPros.com)
ADP: 4.12 — 8.07
More: Highlights | Draft Scout | Contract | Profile | Stats | News | Depth Chart | Discussion | Shop
Born: September 23, 1996, Alexandria, LA
NFL LINKS: CHEAT SHEETS | DEPTH CHARTS | PLAYER LISTS | PLAYER RANKINGS | NFL NEWS | FANTASY | MOCK DRAFTS | SLEEPERS PLAYER RANKINGS:
Vodka | Lemon Juice | Lime Juice | Agave Syrup or Simple Syrup | Angostura Bitters | Egg White
In just three years, the Trump administration has diminished the role of science in federal policymaking while halting or disrupting research projects nationwide, marking a transformation of the federal government whose effects, experts say, could reverberate for years.
ENTER TO WIN A FREE CALENDAR & get monthly e-mails with the best deals from us and our partners.