When you purchase products or services through our links we earn a small commission. Thank you.
Best Meat Delivery Services and Subscriptions
If you enjoy tasty selects of steak, chicken or other meat staples, then you'll be excited to know that stocking up on your favorite meats is as easy as filling your online cart.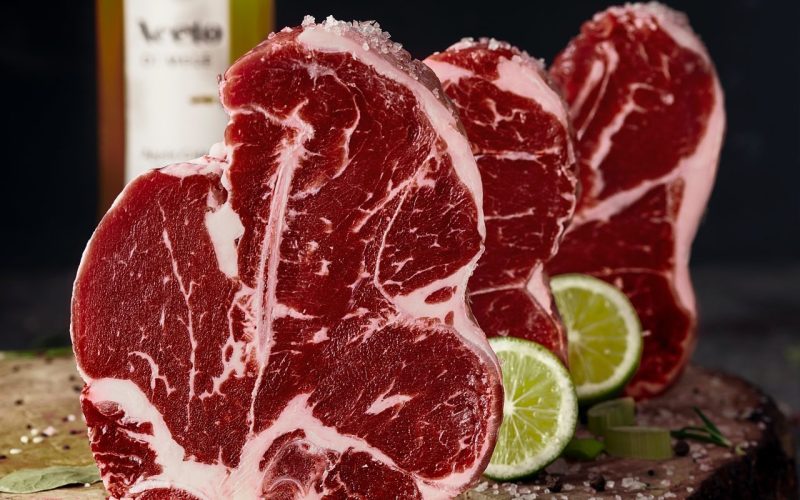 THE BEST MEAT DELIVERY SERVICES AND SUBSCRIPTIONS
Among the ranks of meat delivery services and subscriptions, there are several standout options to choose from.
From the highly popular Omaha Steaks to Butcher Box and Porter Road, these brands provide you a variety of meat options.
And with their affordable pricing for monthly subscriptions and one-time orders, you can stick to your budget while enjoying the ease of ordering these quality cuts. They also make for a great holiday gift for the home chef or expert griller in your life.
Take a look through our top picks and get ready to cook up some delicious new dishes.
Rastelli's has offered top-notch meats since it opened as a local butcher store in New Jersey in 1976.
They now partner with farmers and fishermen from around the world who practice sustainable sourcing to offer a wide variety of cuts of grass-fed, pasture-raised beef, Wagyu steaks, chicken, turkey, pork, lamb, veal, fish, and shellfish.
Meats are certified as free from antibiotics, steroids, and hormones, and seafood is wild-caught or sustainably raised.
There are also fully-cooked, oven-ready meals, like meatballs, breaded chicken breasts, and beef Wellington, as well as seasoning blends and herb butter.
Items ship frozen within five business days.
Cost: Prices vary. For $165, a Black Angus Lovers bundle includes eight 9-ounce ribeyes and sixteen 5-ounce steak burgers. Subscriptions are also available.
Availability: Nationwide, except for Hawaii, Alaska, and military bases.
Customer review: "Tasted like I was in a dream. Beats other steaks I have ordered online from other vendors." – John
ADVERTISEMENT - CONTINUE READING BELOW
Crowd Cow Works with hundreds of independent farmers to offer hundreds of individual items, ranging from sustainable beef, poultry, bison, pork, duck, wild boar, and more.
You can also let their team curate a box for you featuring all Wagyu beef, lean proteins, or a mix of beef, chicken, and pork.
Or, try a bundle featuring meats and sides, like Wagyu burgers and street corn.
Cost: Standard and family-size curated boxes range from $118 to $187. Individual items vary in price. Memberships are free and provide a discount on products and free shipping on some orders.
Availability: Nationwide, except Alaska and Hawaii.
Customer review: "Crowd Cow offerings are fantastic. High-quality products with excellent packing and shipping. Highly recommend giving Crowd Cow a try!" – Anthony
Wild Fork offers a huge selection of beef, steaks, pork, lamb, sausages and specialty meats, like ostrich and venison.
And, you can find plenty of wild-caught, grass-fed, and antibiotic-free options.
Purchase portions individually or snag one of the many bundles that contain a mix of meat and sides.
The membership ($29 a year) gets you free shipping and may even score you free same-day pickup (depending on where you live).
From grass-fed and grass-finished beef to pasture-raised chicken to heritage pork to wild-caught seafood, FarmFoods has tons of high-quality options to satisfy your meat cravings.
Along with buying individual items, samplers and variety packs are also available.
You can even nab a portion of a whole cow or pig.
Shipping is free on orders over $99, and items arrive frozen packed in dry ice.
Cost: Value pack pricing starts at about $60; prices of individual items vary.
Availability: Nationwide, but free shipping isn't available to Hawaii, Alaska, or the U.S. Virgin Islands.
Customer review: "I truly value pasture-raised/organic high-quality products and FarmFoods provides both within a single site. For variety, quality, and price FarmFoods is number one." – Barbara
Porter Road sources meat from farms that are family-owned and operated in Kentucky, Tennessee, and Pennsylvania, so the farms are carefully vetted for sustainability and husbandry standards.
Their products are hand-cut, and all the beef is dry-aged for at least 14 days.
Meats, including beef, pork, lamb, and chicken, are antibiotic- and hormone-free and sold as individual cuts, in bundles or via subscriptions.
Choose from a butcher's choice box, a best-of box, and more—subscribers can have their picks delivered every two, four, or eight weeks.
Cost: Subscription boxes range from $100 to $127; individual prices vary.
Availability: Nationwide, except for Alaska and Hawaii.
Customer review: "Porter Road has become my go-to source for top-quality meat and prompt delivery. I've ordered twice now and both times the quality has exceeded my expectations. In addition, their packaging is eco-friendly. Top-notch." – Warren
This Instagram-friendly meat delivery service focuses on delivering grass-fed, grass-finished beef, crate-free raised pork, free-range organic chicken, and wild-caught seafood.
ButcherBox works with farmers and fishermen committed to sustainability, and runs their meat-processing facilities with high-quality standards.
ButcherBox is only available on a subscription basis, but you have five boxes to choose from—a custom box, a mixed box, a beef and chicken box, a beef and pork box, and an all-beef box.
Meats are frozen and delivered every four, six, or eight weeks in an eco-friendly insulated box.
Cost: Subscription box prices start at $137 for 8 to 11 pounds of meat.
Availability: Nationwide, except for Alaska and Hawaii.
Customer review: "The box saves me so much time at the supermarket and I feel their prices are pretty comparable to places like Costco. I love the fact that their chicken is organic and their beef is grass-fed/grass-finished. You are hard-pressed to find that quality elsewhere unless you shop at upscale grocery stores, and then you're paying double the price." – Kristen
One of the original meat delivery services, Omaha Steaks has been around since 1917 (!).
Its beef is sourced straight from Nebraska and aged for 21 days.
Some of the cuts you'll find include ribeyes, porterhouses, filet mignons, tomahawks, and prime rib.
And, despite its name, steaks aren't the only type of meat they have.
Chicken, pork, fish, shellfish, heat-and-serve entrees, and full meals are other top choices.
Value packs featuring steak and other meats are available, too, and they're customizable.
Cost: Value packs start at $99; prices vary for individual cuts.
Availability: Nationwide.
Customer review: "These were absolutely wonderful! I was so impressed with the quality and taste!" – Patricia
Looking for something a little different?
Fossil Farms may be the meat delivery service for you.
It specializes in wild game, game birds, exotic meats, and other all-natural meats from more than 200 farms.
Here, you'll find elk, alligator, goat, quail, venison, kangaroo, rabbit, and hundreds of other items.
(But if you're not feeling adventurous, chicken and beef are available too.)
The meats are antibiotic-, steroid-, and hormone-free.
Cost: The Exotic Wild Game Starter Kit is $137, individual prices vary.
Availability: Nationwide.
Customer review: "I was really impressed with your meats. So far I've had the duck and venison chops. They were fantastic. It's hard to find game meat around here and this made it so easy. I'll definitely be ordering again!" – Nicole
For decades, D'Artagnan has been committed to free-range, natural production and humane, sustainable farming of its meats.
They work with farmers and ranchers who are committed to this mission too.
Birds are the star here: This meat delivery service offers a variety of duck cuts, including duck breasts, confit legs, and duck prosciutto.
Goose, pheasant, quail, and other poultry is also available.
As well as foie gras, pâté, charcuterie, and a variety of seafood, chicken, beef, and game cuts.
Las Vegas, often known simply as Vegas, is the 26th-most populous city in the United States, the most populous city in the state of Nevada, and the county seat of Clark County. The city anchors the Las Vegas Valley metropolitan area and is the largest city within the greater Mojave Desert. Wikipedia
Flight Deals (As low as $24)
Get your wall art right for the season with these Editor's Picks.
ADVERTISEMENT - CONTINUE READING BELOW
Get right for the season with these Editor's Picks.
Heavily researched. Thoroughly vetted.
Time for a drink. We're buying.
Eating well shouldn't feel like work.