PAGE PROUDLY SPONSORED BY
#PoliTags
1st Amendment
2nd Amendment
AntiFa
Biden
Capitol Invasion
Climate
Covid-19
Economy
Foreign Policy
Friends of Trump
Healthcare
Immigration
Infrastructure
National Security
Terrorism
Trump
T-Nazis
US Elections
Witch Hunts
First Amendment: Congress shall make no law respecting an establishment of religion, or prohibiting the free exercise thereof; or abridging the freedom of speech, or of the press; or the right of the people peaceably to assemble, and to petition the Government for a redress of grievances.
– Per We The People. Read more here.
'Congress shall make no law' implies that these rights are only protected from the government's powers of oppression. Households and businesses maintain the right to refuse products and/or services — whether it is a restaurant that requires shoes and a shirt, a golf club requiring a collared shirt, or a social media platform requiring you to follow their community rules. If there is an intruder in your house they do not reserve the right to claim their presence in your home is protected by their freedom of speech — it is up to you as to whether or not they are welcome on your property, regardless of their free speech rights. Social media platforms are digital properties and they can choose who is allowed on their property and who isn't. 
When analyzing world events as to their possible infringement on our First Amendment right, we must always ask: Is this an example of government or mob rule enforcement — or is this a business or person who has rights to their property?
The selection of articles are only those in which a government [or government representative] appear to be infringing upon First Amendment rights as defined by the U.S. Constitution. Click here for false-flag content. If you've come across an article you think we should share, share the link with us here.
One of my favorite offseason tasks is to scour every NFL roster and identify the most underappreciated player on each team using my context-based models. In the fast-paced NFL season, it's easy to focus on superstars or skill-position players who help us win in fantasy football, but one of the most useful applications of analytics is to view every game from the previous campaign through the lens of a total-contribution metric to see where teams earned an edge that perhaps didn't get as much attention as it should have during the season. With that in mind, here's how I came up with my list of the most underappreciated players …
2021 fantasy player outlook for JuJu Smith-Schuster, WR, Pittsburgh Steelers (6/23) Advice: JuJu Smith-Schuster is a high-end No. 2 WR worth a selection as early as Round 4 in PPR leagues. If his efficiency regresses to his career norm, he could be even more than that. Smith-Schuster saw his yards per catch plummet to 8.6 in 2020, more than five yards per catch off his career average heading into the year. Considering he caught 97 passes, that's a lot of meat left on the bone. Part of that was due to his average depth of target, which crashed to 5.5 yards, but he also did less after the catch. Considering his age, we should expect at least some bounce back, which gives him WR1 upside. (CBSSports.com)
ADP: 4.12 — 9.01
More: Highlights | Draft Scout | Contract | Profile | Stats | News | Depth Chart | Discussion | Shop
Born: November 22, 1996, Long Beach, CA
Americans moved closer to family during the pandemic. What if they stay there?
Former President Donald Trump pressured acting Attorney General Jeffrey Rosen to declare that the election was corrupt in an attempt to help Republican members of Congress try to overturn the election result, according to notes of a December 2020 call Trump held with Rosen and acting deputy attorney general Richard Donoghue.
During the December 27, 2020, call, Trump pressured Rosen and Donoghue to falsely declare the election "illegal" and "corrupt" even after the Justice Department had not uncovered evidence of widespread voter fraud.
"Just say that the election was corrupt + leave the rest to me and the R. Congressmen," Trump said on the call, according to Donoghue's notes.
Rep. Bennie Thompson, the chairman of the House select committee, asked the four officers testifying at the hearing today what they want the committee to uncover in their investigation.
DC Metropolitan Police Officer Michael Fanone asked the committee to investigate the organizing of Donald Trump's "stop the steal" rally and the "violent political rhetoric" leading up to and during the event.
He said that "the time, the place, and the circumstances of that rally, that rhetoric, and those events to me leads in the direction of our president," referring to former President Trump, "and other members" of Congress and the Senate.
He called for the committee to conduct "an investigation into those actions and activities which may have resulted in the events of Jan. 6," and whether or not there was "a collaboration between those members, their staff, and these terrorists."
2021 fantasy player outlook for Antonio Brown, WR, Tampa Bay Buccaneers (6/23) Advice: Brown finally returned to NFL action in 2020 by joining Tom Brady and the Buccaneers. Although at times he flashed what made him so unstoppable with Pittsburgh (the ability to create separation at all three levels with explosive after-the-catch ability), he put it all together in just one game. Brown was efficient in the red zone and has been at his most efficient there (small sample size) with Brady. Although the path to volume in Tampa seems blocked, talent and rapport can win out, making Brown a plus late-round flier. (CBSSports.com)
ADP: 4.12 — 12.04
More: Highlights | Draft Scout | Contract | Profile | Stats | News | Depth Chart | Discussion | Shop
Born: July 10, 1988, Miami, FL
Can we stop claiming that Trump's followers are his victims? They've made their choice, and must live with it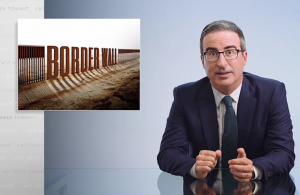 Nearing the 2020 election, John Oliver checks in on one of the key promises of President Trump's 2016 campaign: the border wall.
House Speaker Nancy Pelosi called House Minority Leader Kevin McCarthy a "moron" after being asked by a reporter about his criticism of the Capitol physician's mask mandate in the House, another sign of the souring relationship between the two House party leaders.
"He's such a moron," Pelosi, a California Democrat, said while getting into her SUV outside the Capitol, when asked about the House minority leader.
Azeez O. Ojulari is an American football outside linebacker who played for the Georgia Bulldogs.
Ty Marquise Johnson is an American football running back for the New York Jets of the National Football League. He played college football at Maryland. Highlights
Born: September 17, 1997 (age 23 years), Cumberland, MD
Height: 5′ 10″
Weight: 216 lbs
With the 2021 NFL Draft and most of free agency in the rearview, Gregg Rosenthal will project starting lineups for all 32 teams because that's his idea of fun. Check out the AFC East breakdowns below.
The only team in NFL history to complete a perfect season was the 1972 Miami Dolphins, who went 17-0, not the 19-0 that Mahomes referenced.
"I expect the reopening plays to keep climbing, while the Covid-winners get hammered for the rest of the week," the "Mad Money" host said.
While Fox News recently drew the ire of Donald Trump for calling Joe Biden's election victory, the right-wing channel has generally been friendly territory for the lame-duck president and other conservatives.
All the best college highlights from the top-rated rookie tight ends in 2021.
While some of these names are public knowledge, others remain a closely guarded secret.
In the mood for something new? Here's our collection of the most iconic sandwiches from around the world.
I've smoked six cigars in the past 28 years and after the first four, I swore I would never do it again. That is, until I ended up at a VIP/media preview of The Vintage Whiskey & Cigar Bar in South End, where I figured I would indulge in another stogie just for the experience of it all. Maybe it's because I am extremely sophisticated as a 28-year-old, or maybe it's because The Vintage's house blend — by cigar curator Giannis Koutsoupias — is of some extraordinary cultivation, but at the point when I should have left, I ordered another.
2021 fantasy player outlook for Preston Williams, WR, Miami Dolphins (6/23) Advice: Injuries have been a problem for Preston Williams the past two seasons, and it appears the Dolphins are ready to reduce his role, especially with the addition of free agent Will Fuller and rookie Jaylen Waddle. Williams is only worth a late-round flier in deep Fantasy leagues this year. Williams had foot surgery in November, and he played in just eight games last season. This was after suffering a torn ACL in 2019. DeVante Parker, Waddle and Fuller will be the top guys on the depth chart in Miami, and Williams will fight for a reserve role. Hopefully he can stay healthy, but it will be hard for Fantasy managers to count on Williams in 2021. (CBSSports.com)
Emails from former White House chief of staff Mark Meadows are among files released to support the House panel's recommendation that he be held in contempt.
About half a year into Joe Biden's presidency, it is time to consider how his administration's economic doctrine compares with that of Donald Trump and previous Democratic and Republican administrations.
The paradox is that the "Biden doctrine" has more in common with Trump's policies than with those of Barack Obama's administration, in which the current president previously served. The neo-populist doctrine that emerged under Trump is now taking full form under Biden, marking a sharp break from the neoliberal creed followed by every president from Bill Clinton to Obama.
The top news and content from around the web NFL LINKS: CHEAT SHEETS | DEPTH CHARTS | PLAYER LISTS | PLAYER RANKINGS | NFL NEWS
After weeks of long nights and endless Zoom calls, a bipartisan group of senators finally reached a deal on "the major issues" in their $1.2 trillion "hard" infrastructure package, GOP senators involved in the talks announced Wednesday.
Why it matters: It could be days before the group finishes writing the bill, but the Senate can begin debating the legislation in earnest now that they have resolved the outstanding issues. The bill needs 60 votes to advance in the Senate.
BUFFALO, N.Y. — Buffalo Bills wide receiver Cole Beasley, who has openly opposed the NFL's policy on COVID-19 vaccinations, attempted to clarify his stance Wednesday, saying his gripe with the league is over the differing standards for vaccinated and unvaccinated players.
California will send every registered voter in the state a mail-in ballot for the November general election. But President Donald Trump falsely said, on Twitter and at the White House, that the ballots would go to "anyone living in the state, no matter who they are or how they got there" and "people that aren't citizens."
Not only did Mr. Epstein (clearly a Trumper) attack the credibility of America's First Lady, he displayed his lack of knowledge on the issues he has opinions on.
The good news is, Donald Trump, preoccupied for nine months with ridiculous lies about his election defeat, is starting to focus at least some of his attention on something new. The bad news is, the former president's new interest is far from constructive.
Politico reports that Trump is now trying to "sabotage" the bipartisan infrastructure deal pending on Capitol Hill.
ENTER TO WIN A FREE CALENDAR & get monthly e-mails with the best deals from us and our partners.