When you purchase products or services through our links we earn a small commission. Thank you.
Homemade Sweet Potato Cornbread Recipe | Try This ASAP
This sweet potato cornbread is moist, delicious, and super easy to make. A quick and easy side dish that's perfect for the holidays like Thanksgiving, Christmas and more.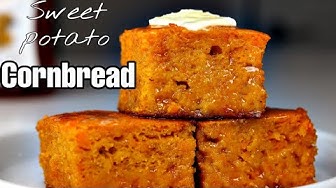 Ingredients
1 cup – all purpose flour
1 1/2 cup – fine cornmeal
3 – medium size sweet potatoes
3 – eggs
2 cups – butter milk
1 stick – unsalted butter
1 tsp – salt
1/4 tsp – nutmeg
1 tsp – cinnamon
1/2 cup – white sugar
1 cup – brown sugar
1 tbsp. – baking powder
1 tsp – baking soda
4 tbsps. – unsalted butter
1/3 cup – honey
If you found this video helpful and know of someone that would benefit from this video, please share it. 🍻🇺🇸📣
Wines
These are THE BEST LODI WINES that YOU CAN BUY right now.
Books
Our list of recommended books for the curious mind.
Heavily researched. Thoroughly vetted.