When you purchase products or services through our links we and our partners earn a small commission. Thank you.
How To Make Better Mulled Wine – Red & White!
Mulled Wine is just what you need to warm your soul these coming colder months, but how do you make the best Mulled Wine? In today's episode I'll be showing you first how to make the classic version you'll find in cafes and street markets, followed by two Cocktail Time variations using red and white wine with a few extra things added to make both versions a little special – don't worry, nothing crazy, just something to elevate the cozy experience for you and your loved ones! So if it's also getting colder where you live, make sure to pull up a chair and a cozy jacket for this episode. Cheers!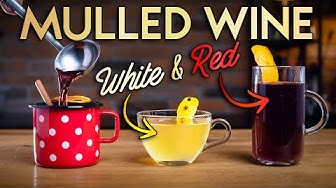 If you found this video helpful and know of someone that would benefit from this video, please share it. 🍻🇺🇸📣
Heavily researched. Thoroughly vetted.