When you purchase products or services through our links we earn a small commission. Thank you.
How To Make The Brandy Flip – Booze On The Rocks
The Brandy Flip is an easy to make whole egg cocktail that is creamy and great tasting. Its perfect for your Christmas and New Years Parties. Eggnog's and Flips are similar except the Nogs also contain milk or cream. Its well worth giving it a try.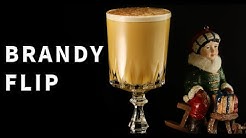 Brandy Flip
INGREDIENTS
2 oz/60 ml Brandy
1 oz/30 ml Simple Syrup
1 Whole Egg
METHOD
1. Add all ingredients to shaking glass.
2. Dry Shake 10 sec (No Ice)
3. Wet Shake 10-12 sec (With Ice)
4. Strain into glass.
5. Garnish with a little bit of nutmeg.
6. Strain
7. Garnish with fresh nutmeg.
If you found this video helpful and know of someone that would benefit from this video, please share it. 🍻🇺🇸📣
Heavily researched. Thoroughly vetted.