When you purchase products or services through our links we earn a small commission. Thank you.
How To Make The Moose Milk Cocktail – Booze On The Rocks
Today on Booze On The Rocks we show you How To Make The Moose Milk Cocktail. Its perfect for your Christmas and New Years Parties. This traditional cocktail was originally created by Flight Sergeant Jack "Pony" Moore during World War I. It is a mainstay of the Canadian Forces.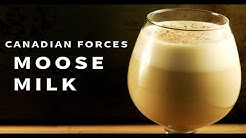 Moose MILK
1.5 oz/45 ml Vodka
1.5 oz/45 ml Kahlua
1.5 oz/45 ml Dark Rum
4 oz/120 ml Soft Vanilla Ice Cream
4 oz/120 ml 3% milk
Blend
Garnish with Cinnamon
If you found this video helpful and know of someone that would benefit from this video, please share it. 🍻🇺🇸📣
Heavily researched. Thoroughly vetted.