When you purchase products or services through our links we and our partners earn a small commission. Thank you.
Hunter Biden's Laptop – Jordan Klepper Fingers the Conspiracy | The Daily Show
It's been a Fox News obsession for almost two years now: Hunter Biden's laptop. But now that Republicans have retaken the House, Rep. James Comer and the House Oversight Committee are prepared to launch a full investigation into the laptop…except no one seems to know where the laptop is. In this episode, Jordan sits down with Deputy Director of Rapid Response from Media Matters For America, Andrew Lawrence, who breaks down the beginnings of this conspiracy theory. Jordan is later joined by Rep. Gerry Connolly (D-VA) from the House Oversight Committee who discusses his approach to the upcoming investigation. Later, journalist, author, and former MSNBC host Tiffany Cross offers her ideas on how the media should be fairly and accurately covering this case.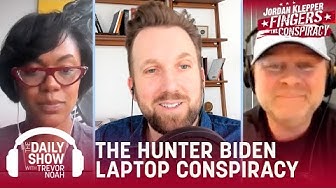 If you found this video helpful and know of someone that would benefit from this video, please share it. 🍻🇺🇸📣
Heavily researched. Thoroughly vetted.
BY OMNICORE     Nov 26, 2021
BY SOLO STOVE     Nov 26, 2021
BY CROWD COW     Nov 26, 2021
BY CALIFORNIA WINE CLUB     Nov 26, 2021