When you purchase products or services through our links we earn a small commission. Thank you.
I SMOKED and then DEEP FRIED this Turkey…
I did a Smoked Fried Turkey – or Smo Fried Turkey. First I brined a whole turkey, smoked it with pecan wood half the way, and then deep fried it in peanut oil for the last step to get a juicy, smoked turkey with a crispy turkey skin.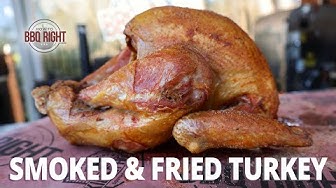 Smoked and Fried Turkey Recipe
Ingredients:
1 – Whole Turkey 12lbs
1 bottle – Malcom's Bird Brine https://bit.ly/H2Qbirdbrine
2 gallons – Water
1 can – Vegetable Cooking Spray (or your favorite oil)
2 Tablespoons – Killer Hogs AP Seasoning http://bit.ly/TheAPRub
2 Tablespoons – Malcom's King Craw Seasoning https://bit.ly/KingCrawCajun
Directions:
1. Remove thawed turkey from packaging be sure to check the cavity and neck area for giblets.
2. Place the turkey in Meat Bag or large container and pour in the bottle of Bird Brine. Add 2 gallons of water (enough to completely submerge the bird) and place in the refrigerator or in a cooler on ice for 24-48 hours.
3. Remove turkey from brine and allow to drain. Place on a wire rack over a sheet pan and place in the refrigerator for 2 hours to dry the skin. (It helps to pat the excess moisture off the skin with paper towel)
4. Prepare pellet grill for indirect smoking at 275°F using pecan pellets.
5. Spray the skin with the cooking spray – or another oil – and season with AP seasoning on all sides.
6. Place the turkey in the smoker breast side up until an internal meat probe hits about 150° F.
7. Set up a turkey fryer for deep frying at 350°F using peanut oil for best flavor. Any clear frying oil will work.
8. Remove the turkey from the smoker and insert the turkey frying rod/hanger through the cavity.
9. Leave the meat probe inserted in the thickest part of the breast to monitor internal temperature while frying.
10. Carefully lower the turkey breast side down into the hot oil. Use extreme caution and follow the turkey fryer directions carefully.
11. When the internal temperature reaches 165°F in the breast, carefully remove the turkey from the hot oil allowing it to drain. Place the turkey immediately on a cutting board breast side up and remove the turkey frying rod/hanger.
12. Season the outer skin with King Craw Cajun Seasoning and let the bird rest for 5-10 minutes before carving.
If you found this video helpful and know of someone that would benefit from this video, please share it. 🍻🇺🇸📣
Heavily researched. Thoroughly vetted.