When you purchase products or services through our links we earn a small commission. Thank you.
It Took Me Years To Perfect This Mac & Cheese Recipe!
If you're a Seafood Lover, you're in the right place! Today we are helping mac & cheese reach it's full potential!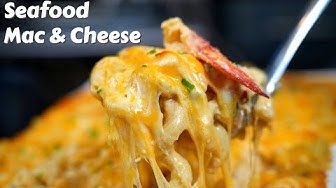 Shopping List:
1 lb cavatappi noodles
1/2 lb shrimp
1/2 lb crab
1/2 lb lobster
2 tbsps flour
1/2 cup sherry wine or chardonnay
1 tsp lobster base
3 tbsps butter
1 tbsp garlic
1 cup heavy crem
2 cups half and half
1 cup colby jack
1 cup mozzarella
1 cup cheddar
1/2 cup monterey jack
1/2 cup parmesan
AP seasoning, old bay, cajun seasoning, smoked paprika
If you found this video helpful and know of someone that would benefit from this video, please share it. 🍻🇺🇸📣
Books
Our list of recommended books for the curious mind.
Mattresses
Is it time to get a new mattress? We found all the best mattresses available on the internet that can be delivered straight to your door. Choose which one is best for you.
Heavily researched. Thoroughly vetted.