When you purchase products or services through our links we earn a small commission. Thank you.
Last Week Tonight with John Oliver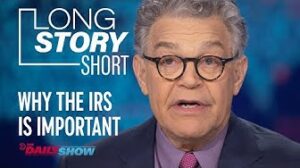 Republicans want you to believe that increased funding and a greater workforce for the IRS means you'll have tax collectors breaking down your door and taking your money at gunpoint. In the latest installment of Long Story Short, Al Franken takes a look at what that new IRS money is really going towards, including updated technology and more people to handle the complex high-income audits.
Heavily researched. Thoroughly vetted.
Eating well shouldn't feel like work.