When you purchase products or services through our links we and our partners earn a small commission. Thank you.
Make Cabbage Balls NOT Cabbage Rolls | Chef Jean-Pierre
Hello There Friends, Cabbage Rolls are made all over YouTube and in so many households. I want to share with you all a trick that my Mom taught me. MAKING BALLS!!! Cabbage Balls… They look a lot more elegant and stay together so much better. Cabbage Rolls are a thing of the past. Come and make Cabbage Balls with me! Let me know what you think in the comments.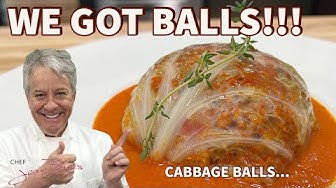 If you found this video helpful and know of someone that would benefit from this video, please share it. 🍻🇺🇸📣
Heavily researched. Thoroughly vetted.