When you purchase products or services through our links we earn a small commission. Thank you.
Maple Bourbon Spatchcock Turkey
This maple bourbon turkey utilizes a tasty, wet brine to impart serious moisture and amazing flavor into turkey while creating a gorgeous final product with beautiful color. You can prepare this as a traditional turkey, but I prefer to spatchcock my turkeys. A spatchcock turkey cooks more evenly than a traditional whole turkey plus it presents beautifully and is easier to carve! We use our southwestern sweet heat rub, Texas Sugar, in this recipe but you can substitute your favorite seasoning.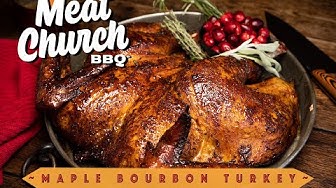 If you found this video helpful and know of someone that would benefit from this video, please share it. 🍻🇺🇸📣
Heavily researched. Thoroughly vetted.