When you purchase products or services through our links we earn a small commission. Thank you.
Master The Classics: Tom and Jerry
The Tom and Jerry is a Christmas time cocktail which has several stories surrounding it's creation. Jerry Thomas claimed to have created the cocktail and named it after his two pet rats, which would perch on his shoulders or atop his bowler cap. Thomas claims to have invented the drink in 1842 in the Planter's House Hotel in St Louis and included it in the first edition of his Bartender's Manual in 1862. Thanks to the expert Sleuthing of David Wondrich we now know that it was referenced in a Salem Gazette article in 1827 which would have been three years before the flamboyant Professor was born.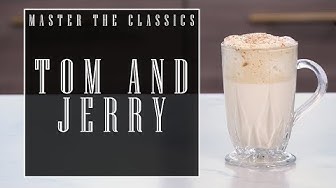 Another story has it that it was created by British journalist Pierce Egan in the 1820's and named after a play he had written in 1821 titled: "Tom and Jerry, or Life In London".
This drink is also reportedly the favorite Christmas drink of President Warren G. Harding who would serve it at his annual Christmas party.
Ingredients
For The Batter:
1oz (30ml) Bacardi 8 Rum
1lbs (450g) Caster Sugar
2 dashes Angostura Bitters
1 tbsp. Vanilla Extract
1/2 tsp. Cinnamon
1/2 tsp. Allspice
1/4 tsp. Cloves
1/4 tsp. Nutmeg
6 Fresh Eggs
For The Drink:
.75oz (22.5ml) Bacardi 8 Rum
.75oz (22.5ml) Cognac
5oz (150ml) Warm Milk
2oz (60ml) Tom and Jerry Batter
Nutmeg Sprinkle
If you found this video helpful and know of someone that would benefit from this video, please share it. 🍻🇺🇸📣
Heavily researched. Thoroughly vetted.