When you make purchases through our links we may earn a small commission.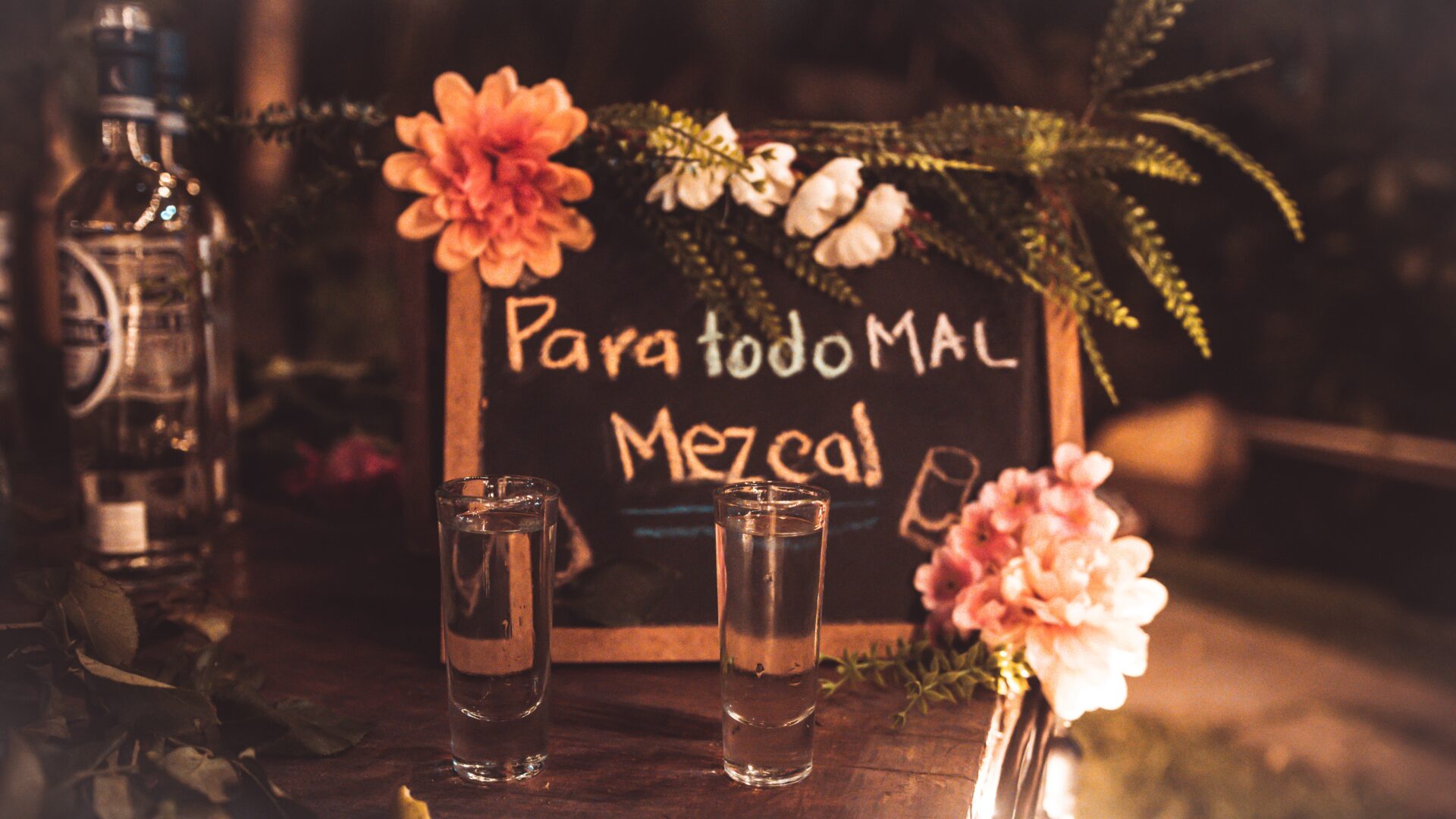 It's like scotch… but, from Mexico. This Mexican spirit is made from the agave plant, just like its more famous cousin, tequila. But unlike tequila, mezcal is made using a traditional production process that gives it a smoky and complex flavor profile that is unlike anything you've ever tasted.
When you take a sip of a mezcal drink, you'll be transported to the rugged landscape of Oaxaca, where the spirit is produced. Mezcal's smoky flavor is the result of the agave plants being roasted in an underground pit oven before being distilled, giving it a unique character that is both bold and intriguing.
One of the best things about mezcal is its versatility. It can be enjoyed neat, on the rocks, or mixed into a wide range of cocktails. Some popular mezcal cocktails include the smoky and spicy Mezcal Margarita, the refreshing Mezcal Paloma, and the bold and complex Oaxaca Old Fashioned.
But mezcal is more than just a spirit – it's a cultural experience. From the traditional production methods to the unique flavor profile, every sip of mezcal is a journey through Mexican history and tradition. So if you're looking for a spirit that is both delicious and fascinating, give mezcal a try. Your taste buds (and your sense of adventure) will thank you!
Mezcal is a traditional Mexican spirit that has been produced for centuries. Its exact origins are somewhat unclear, but it is believed to have been developed by indigenous peoples in the state of Oaxaca, where it is still primarily produced today.
The name "mezcal" comes from the Nahuatl word "mexcalli," which means "oven-cooked agave." The production process for mezcal is quite similar to that of tequila, which is also made from the agave plant. However, there are some key differences that give mezcal its distinctive character.
The agave plants used to make mezcal are typically grown in the highlands of Oaxaca, and are harvested when they are fully mature. The plants are then roasted in an underground pit oven, which gives the spirit its smoky flavor. After roasting, the agave is crushed and then fermented, before being distilled in copper or clay stills.
One of the unique aspects of mezcal is the use of "piñas," which are the heart of the agave plant that are roasted in the pit oven. The smoky flavor that is characteristic of mezcal comes from the cooking process, which can take several days and requires a lot of skill and expertise to get just right.
Mezcal has played an important role in Mexican culture and tradition for centuries, and is often consumed during religious ceremonies and celebrations. Today, mezcal is enjoying a resurgence in popularity both in Mexico and around the world, as people rediscover its unique flavor profile and cultural significance.
Mezcal is made from the agave plant, just like tequila, but the production process is quite different and gives mezcal its distinctive smoky flavor. Here is a brief overview of how mezcal is made:
Harvesting the agave: The first step in making mezcal is to harvest the agave plant when it is fully mature, which can take anywhere from seven to twenty years depending on the variety of agave.

Roasting the agave: Once the agave plants have been harvested, they are roasted in an underground pit oven, called a "horno." The oven is filled with wood and the agave plants are piled on top and covered with dirt and rocks. The agave is slow-roasted for several days, which gives mezcal its distinctive smoky flavor.

Crushing the agave: After the agave plants have been roasted, they are crushed to extract the juice, which is called "aguamiel" or honey water. Traditionally, the agave was crushed using a large stone wheel pulled by a mule or horse, but today most mezcal producers use a mechanical crusher.

Fermentation: The aguamiel is then fermented in large wooden vats or stainless steel tanks, using natural yeasts or a yeast culture. The fermentation process can take several days or even weeks, depending on the temperature and other factors.

Distillation: After fermentation, the mezcal is distilled in copper or clay stills. The distillation process is what gives the mezcal its high alcohol content and concentrates the flavor. The resulting spirit is then aged in oak barrels or bottled immediately, depending on the style of mezcal.
The production of mezcal is an artisanal process that requires a lot of skill and expertise. Each mezcal producer has their own unique recipe and style, which gives each brand its own distinctive flavor profile. While mezcal is similar to tequila in some ways, its smoky flavor and cultural significance set it apart and make it a unique and beloved spirit.
Most Popular Mezcal Cocktails
Mezcal's smoky flavor and unique character make it a popular choice for cocktails. Here are some of the most popular mezcal cocktails that you might enjoy:
Mezcal Paloma
Oaxaca Old Fashioned
Mezcal Negroni
Mezcal Sour
Smoky Martini
Mezcal Mule
Mezcal Last Word
Smoky Bloody Mary
Mezcal Manhattan
Mezcal Martinez
Mezcal Bee's Knees
Mezcal Spritz
Mezcal Cosmo
Smoky Margarita
Mezcalita
Mezcal Daiquiri
Smoky French 75
Mezcal Caipirinha
Mezcal Mojito
Mezcal Bramble
Mezcal Sunrise
Mezcal Sidecar
Mezcal and Tonic
Mezcal Collins
Smoke On The Water
Smoky Negroni
These are just a few examples of the many delicious mezcal cocktails that are out there. Experiment with different recipes and ingredients to find the perfect mezcal cocktail for your taste!
There are many great mezcals out there, each with its own unique character and flavor profile. Here are some top-rated mezcals based on their quality, taste, and popularity:
These are just a few examples of the many great mezcals that are available. Each brand and variety has its own unique flavor profile and style, so be sure to explore and find your favorite!