When you purchase products or services through our links we earn a small commission. Thank you.
Milk Punch – A Holiday Classic from 1688!
Milk Punch is a precolonial Holiday Staple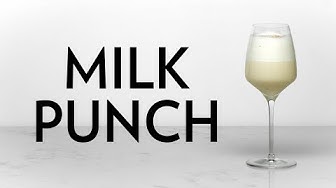 The first time Milk Punch found publication in a cocktail book was in Jerry Thomas' 1862 Edition of his Bar-Tenders Guide, but it was first seen in publication around 1688 where in popped up in William Sacheverell's travelogue of the Scottish Isle of Iona and was also published in a 1711 Cookbook written by Aphra Behn which was the first time it was actually published. The clarified version is also attributed to Aphra Behn which subsequently found popularity as a bottled drink due to it's shelf stability.
We have a video on makingClarified Milk punch which you can find here.
In this video we are making the earliest version of this punch and doing a reconstructed version of the Jerry Thomas Recipe. In more modern times it has been a pretty popular holiday staple in New Orleans specifically but also in much of the South United States. And it most certainly gave birth the Egg Nog which is a variant Milk Punch and was sometimes referred to as "Egg Milk Punch." Ok that's it for the history! Go get it!
Ingredients:
4oz (120ml) Whole Milk
1oz (30ml) Brandy
.5oz (15ml) Virgin Island Rum
.375oz (11ml) Simple Syrup
2 Dashes Vanilla Extract
Grated Nutmeg Garnish
If you found this video helpful and know of someone that would benefit from this video, please share it. 🍻🇺🇸📣
Heavily researched. Thoroughly vetted.