When you purchase products or services through our links we earn a small commission. Thank you.
My Favourite Thanksgiving Soup Thanksgiving Recipe | Chef Jean-Pierre
Hello There Friends, My Favourite Thanksgiving Soup today! Even though I love making this Soup for Thanksgiving, I can eat this Butternut Squash Soup all year round! I love eating soup, and if you love soup just as much as I do you will never get tired of the amazing balance found in this soup. Let me know what you think in the comments. Be sure to keep an eye out for all the videos coming out during Thanksgiving!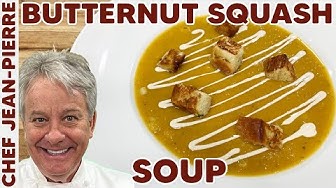 Ingredients
¾

pound

of Bacon sliced

1

large Onion diced, about 2 cups

1

or 2 large Butternut Squash – peeled and cut into 1" cube, about 5 pounds total weight

1

pound

Sweet Potatoes cut into 1" cube

2

large Leeks diced

2

large Celery diced

10 to 12

Garlic Cloves peeled

1

tablespoon

Ground Cumin

1

tablespoon

Fresh Thyme chopped

1

tablespoon

Fresh Ginger grated or chopped

10 to 12

cups

Chicken or Vegetables Stock

or whatever you need to "barely" cover the vegetables

½

cup

Cream Sherry (optional)

¼

cup

Whipping Cream

Salt & Black pepper to taste

1

tablespoon

Parsley freshly chopped
For the Croutons:
5 to 6

slices

of Brioche or your favorite Bread, cut into ½" cubes

2

tablespoons

Unsalted Butter

1

tablespoon

Garlic minced
For the Sour Cream Topping:
1

cup

Sour Cream

2 / 3

tablespoons

Heavy Whipping Cream

1

or 2 dashes Hot Sauce

Salt and Pepper to taste
Directions
Makes 8 to 10 Servings
In a heavy soup kettle, heat the bacon and let it render its fat for a few minutes at low heat.  Add the onion and cook until light golden brown.  Add butternut squash, potato, leeks, celery, garlic, cumin and ginger.  Add the stock and bring to a boil.  Lower the heat and cook gently for 45 minutes. Or until the vegetables are tender.

Using a hand-held immersion blender (or a regular blender), puree the soup until very smooth.  Add the cream, sherry and salt and pepper.

You may complement this soup with garlic and Parmesan cheese croutons and a drizzle of sour cream.
Make the Croutons
Turn on Broiler
Cut the bread into ½" cubes.  In a large sauté pan, heat the butter.  When melted and add garlic and parsley.  Mix thoroughly then add croutons.  When croutons are well‑coated, transfer to a baking sheet in a single layer and broil until golden brown.  Be sure to mix them around the pan every few minutes to get them golden and crisp on all sides.

Allow to cool NOT COVERED on a cookie sheet not in a bowl in a single layer.
Make the Sour Cream Topping
Mix all ingredients to achieve the right consistency and seasoning!
If you found this video helpful and know of someone that would benefit from this video, please share it. 🍻🇺🇸📣
Heavily researched. Thoroughly vetted.
BY OMNICORE     Nov 26, 2021
BY SOLO STOVE     Nov 26, 2021
BY CROWD COW     Nov 26, 2021
BY CALIFORNIA WINE CLUB     Nov 26, 2021