When you purchase products or services through our links we earn a small commission. Thank you.
Nashville Hot Turkey – Smoked Fried Turkey
Given how much we love Nashville Hot Chicken and the popularity of our Nashville Hot Chicken video on this channel, we had to try this method on Turkey. In true Meat Church Fashion we take this recipe a step further by smoking the turkey and then frying it so we get that smoky, crunch, best of both worlds. Smoke Fried Turkey, AKA SmoFried Turkey is awesome!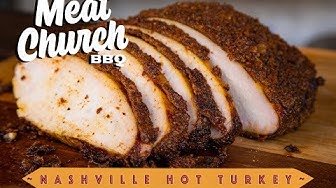 Just as in our Hot Chicken recipe, we brined this poultry in pickle juice to get that familiar Chick-fil-A pickle twang which is AMAZING in this recipe.
In this Nashville Hot Turkey recipe we opted to prepare this recipe and video with a boneless breast, so the protein was easier to manage and required less pickle juice. However, this process works great with a whole turkey, which requires more juice obviously, and also works with the more commonly found bone in turkey breast.
If you found this video helpful and know of someone that would benefit from this video, please share it. 🍻🇺🇸📣
Heavily researched. Thoroughly vetted.