When you purchase products or services through our links we earn a small commission. Thank you.
Our Favorite Christmas Eve Pasta
This pasta with swordfish and eggplant is a delicious and very simple Sicilian recipe to make. We used paccheri pasta, but any tubular shape would be fine. The dish has small chunks of swordfish and eggplant along with tomatoes, mint, and pine (pignoli) nuts. This is the 7th recipe in the Feast of the Seven Fishes series. I hope you enjoy this paccheri pasta with eggplant and swordfish!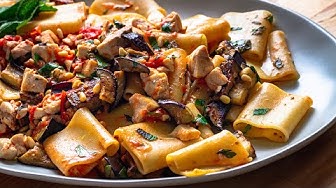 INGREDIENTS
– 1 medium eggplant – cut into 1 inch pieces
– 10 ounces swordfish – cut into small cubes
– 3 cloves garlic – smashed
– 12 ounces cherry tomatoes – sliced in half
– ½ pound paccheri pasta – rigatoni, tortiglioni, ziti, etc
– 2 teaspoons fresh mint leaves – chopped
– 2 tablespoons pine nuts – toasted
– 1/4 cup olive oil
– Extra virgin olive oil
– for finishing
– ½ cup dry white wine
– salt and pepper to taste
INSTRUCTIONS
1. Bring a pot of water to a boil with 2 tablespoons kosher salt per gallon of water.
2. Heat a large pan to medium heat and once hot add olive oil. Add eggplant into pan and cook until brown on all sides (about 5-7 minutes). Remove eggplant and let drain on paper towels. Sprinkle a bit of salt on the eggplant.
3. Add the garlic and cook for 2-3 minutes until golden. Remove garlic from the pan and add the swordfish. Cook for 2-3 minutes searing on all sides.
4. Cook the pasta until al dente.
5. Add the white wine and tomatoes to the pan. Cook for 2-3 more minutes. Any large pieces of swordfish can be broken up a bit with a wooden spoon.
6. Add the al dente pasta to the pan along with a ladle of pasta water. Toss and stir to coat, allowing the sauce to absorb into the pasta. About 1-2 minutes.
7. Next, return the eggplant pieces back to the pan along with the mint and pine nuts. Remove pan from heat. Taste test and adjust salt and pepper if required. If the pasta is a bit dry add a few more tablespoons of pasta water and toss once more.
8. Drizzle high-quality extra virgin olive oil on top and serve. Enjoy!
If you found this video helpful and know of someone that would benefit from this video, please share it. 🍻🇺🇸📣
Heavily researched. Thoroughly vetted.