When you purchase products or services through our links we earn a small commission. Thank you.
Pumpkin Spice Collins | Booze On The Rocks
Today on Booze On The Rocks, we make a Pumpkin Spice Collins. This cocktail recipe combines homemade pumpkin spice syrup and Canadian Whiskey that strikes a perfect balance between sweet and spicy. Try it out and let me know what you think.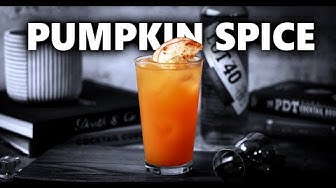 Pumpkin Spice Collins Cocktail Recipe
2 oz/60 ml – Rye Whiskey
1 oz/30 ml – Lemon Juice
1 oz/30 ml – Pumpkin Spice Syrup *
4 oz/120 ml – Apple Cider
Method
1. Fill a 16 oz/480 ml Glass with ice.
2. Build in the glass in order of the ingredients list.
3. Stir.
4. Garnish with an apple slice and Pumpkin Spice sprinkled on top.
Pumpkin Spice Collins Cocktail Recipe
🔹https://boozeontherocks.com/syrups/pu…
12 oz/360 g – Brown Sugar
8 oz/ 240 ml – Water
2 oz/60 g – Pumpkin Puree
1 Tsp/5 ml – Vanilla Extract
1 Tsp/5 ml – Freshly Grated Ginger
10 Whole Cloves
2 Cinnamon Stick
Method
1. Add all of the ingredients to a saucepan on the stovetop.
2. On medium heat stir occasionally until the sugar in the puree is fully dissolved.
3. Let cool completely.
4. Strain into a clean bottle making sure to remove all solids.
5. Will keep for two weeks in the refrigerator.
If you found this video helpful and know of someone that would benefit from this video, please share it. 🍻🇺🇸📣
Heavily researched. Thoroughly vetted.