When you purchase products or services through our links we earn a small commission. Thank you.
Qatar World Cup: Last Week Tonight with John Oliver (HBO)
John Oliver discusses the Qatar World Cup, the human rights violations happening in the sporting event's host country, and what perfection really means to David Beckham.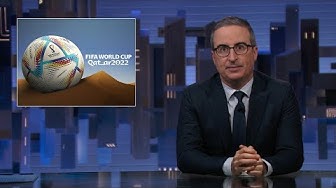 Page Sponsored by: Partisan For The People 🇺🇸🍻👯‍♀️
Subscribe to the Last Week Tonight YouTube channel for more almost news as it almost happens: www.youtube.com/lastweektonight
Find Last Week Tonight on Facebook like your mom would: www.facebook.com/lastweektonight
Follow us on Twitter for news about jokes and jokes about news: www.twitter.com/lastweektonight
Visit our official site for all that other stuff at once: www.hbo.com/lastweektonight
If you found this video helpful and know of someone that would benefit from this video, please share it. 🍻🇺🇸📣
Heavily researched. Thoroughly vetted.