PAGE PROUDLY SPONSORED BY
#PoliTags
1st Amendment
2nd Amendment
AntiFa
Biden
Capitol Invasion
Climate
Covid-19
Economy
Foreign Policy
Friends of Trump
Healthcare
Immigration
Infrastructure
National Security
Terrorism
Trump
T-Nazis
US Elections
Witch Hunts
2021 fantasy player outlook for Saquon Barkley, RB, New York Giants (6/23) Advice: Saquon Barkley is expected to be fine coming off last year's torn ACL, and he should be ready for training camp. If he's healthy as expected then Barkley should once again be considered a first-round draft pick in all Fantasy leagues, and he will likely be selected in the first five overall picks. Last year was a disaster for Barkley, who appeared in just two games and suffered a torn ACL in Week 2. However, he should return in time for training camp, and he still has the potential to be the No. 1 RB in all Fantasy leagues in 2021. Remember, prior to 2020 Barkley scored at least 20 PPR points in 16 of his first 29 games and failed to score at least 13 PPR points just five times over that span. He should remain the focal point of the Giants offense, and hopefully he's healthy for all 17 games this year. (CBSSports.com)
ADP: 1.01 — 1.08
More: Highlights | Draft Scout | Contract | Profile | Stats | News | Depth Chart | Discussion | Shop
Born: February 9, 1997, Bronx, New York, NY
2021 fantasy player outlook for Austin Ekeler, RB, Los Angeles Chargers (6/23) Advice: Austin Ekeler's reception-heavy upside carries him as a first-round value in PPR formats, but not necessarily in non-PPR. He followed up his breakout 2019 season with a modest 2020 thanks in part to a hamstring injury that cost him six starts. Still, the Chargers rusher averaged 93.3 total yards per game, just 3.6 yards off his 2019 average. He also averaged 5.4 receptions per game, 0.4 grabs off what he did a year prior. Ekeler has comfortably moved into the lead role, but he still has work to do when it comes to getting carries near the goal line (one last year, six the year before) and heavy workloads (15-plus touches in just 17 of his past 40 games). Maybe that puts Ekeler toward the beginning of Round 2 in non- and half-PPR leagues, but the catches he'll get from game to game keep him in play as a top-10 overall choice in full PPR. (CBSSports.com)
ADP: 1.01 — 2.06
More: Highlights | Draft Scout | Contract | Profile | Stats | News | Depth Chart | Discussion | Shop
Born: May 17, 1995, Lincoln, NE
Rams general manager Les Snead said he envisions Matthew Stafford quarterbacking the team for five to eight years. (6/23) Advice: Eight years in LA would mean Stafford, 33, would lead the Rams offense into his 40s. "Based on his age, you can legitimately think five to seven, eight years if you look at what Drew (Brees) has done," Snead said. "With quarterbacks of his pedigree, a lot of those guys have played into their late 30s, for sure. So that was definitely the vision with (Stafford)." The Rams inherited Stafford's two-year, $43 million deal when they acquired him from Detroit in January. We could see Stafford sign an extension with the Rams before he plays a regular season snap for the team. (TheAthletic.com)
ADP: QB10 (PFF.com)
More: Highlights | Draft Scout | Contract | Profile | Stats | News | Depth Chart | Discussion | Shop
Two prominent Arizona officials, one Democrat and one Republican, released lengthy prebuttals on the eve of the Cyber Ninjas' report to the GOP-controlled state Senate.
Seth takes a closer look at the Republican Party lying about the Green New Deal and the 2020 election as the U.S. passes a grim coronavirus milestone and Texas experiences an unprecedented power crisis.
For Kaley Cuoco, acting out a mile-high scene as star of HBO Max's The Flight Attendant didn't come naturally. The Big Bang Theory alum revealed that an intimate on-screen moment between her title character Cassie Bowden and Michiel Huisman's Alex Sokolov got a little awkward.
In 1494, the King of Scotland ordered Friar John Cor to make aqua vitae, the water of life. And the most delicious distilled spirit ever created was born. Here's today's best scotches — and they deserve a spot on your shelf.
Grilled Chipotle Chicken | Pico de Gallo | Jack and Cheddar Cheese | Cali Coleslaw | Chili Lime Sour Cream
Looking for the perfect gin drink? Here are 23 of the top recipes from across the web.
Gerald Morgan Jr, Sommelier at Simplified Wine shows you how to order taste wine so you don't look like an idiot.
Both Mahomes and Brady are on the cover of this year's edition — and the Chiefs quarterback talked about the photo shoot with his rival.
U.S. President Joe Biden's infrastructure and social spending legislation will not add to inflationary pressures in the U.S. economy, economists and analysts in leading rating agencies told Reuters on Tuesday.
2021 fantasy player outlook for Drew Lock, QB, Denver Broncos (6/23) Advice: Drew Lock is expected to compete for the Denver starting quarterback job with Teddy Bridgewater. It's no sure thing he will win. His 73.6% adjusted completion rate ranked 21st among qualified passers, his 5.8 adjusted yards per pass attempt put him 31st, his 3.6% touchdown rate rated him 27th, and his 3.4% interception rate was third highest. Not good. Unless that changes during the preseason, Lock will be a risky, benched-at-any-time, uninspiring middle- to late-round pick in two-QB and Superflex leagues and a no-go in any other format. (CBSSports.com)
President Joe Biden signed an executive order Sunday expanding voting access in what the White House calls "an initial step" in its efforts to "protect the right to vote and ensure all eligible citizens can freely participate in the electoral process."
The move comes as Republicans in statehouses around the country work to advance voter suppression legislation, including a bill in Georgia that voting rights groups say targets Black voters. Congressional Democrats, meanwhile, have pushed measures in recent days to increase voting rights, including HR1 — a sweeping ethics and election package that contains provisions expanding early and mail-in voting, restoring voting rights to former felons, and easing voter registration for eligible Americans.
If you've been on the hunt for a watch like no other, a watch that's (nearly) as light as a feather with bold styling to match, you've found your next investment-level timepiece. The Zenith Defy Classic Carbon Watch arrives boldly on the scene to shake up the watch market, featuring full carbon fiber construction like nothing you've ever seen before.
Free Full-Length Documentary short film directed by Emmy nominee Jenny Carchman and produced by Oscar nominees Liz Garbus and Justin Wilkes that follows a team of New York Times investigative reporters as they uncover information that leads to an exclusive breaking news story about President Trump's financial history. Order SHOWTIME for more groundbreaking documentaries! (TV-14)
The best Trevor Noah content.
The world's biggest free-trade bloc came into existence with 15 Asia-Pacific economies forming the China-backed Regional Comprehensive Economic Partnership at a virtual summit.
Two questions have dominated politics throughout the coronavirus pandemic. Democrats and public-health experts have asked: What should we do? Former President Donald Trump, for his part, minimized the need to act. He instead spoke incessantly about a very different question: Whom should we blame?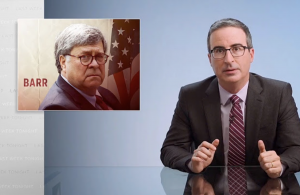 John Oliver discusses William Barr's attitude toward authority and executive power, how that attitude has influenced Donald Trump's presidency, and what it could mean if Trump wins a second term.
Illinois Rep. Adam Kinzinger became the first congressional Republican to call on his colleague from Florida, Rep. Matt Gaetz, to resign in the face of a federal investigation into sex trafficking allegations.
John Oliver discusses the long week of US presidential election results, including Donald Trump's various attempts to make the election appear illegitimate, and a historic win for Joe Biden and Kamala Harris.
Seth takes a closer look at former President Donald Trump's second impeachment trial being a chance to hold Trump accountable for his crimes and to shine a national spotlight on the decay of the GOP and our democratic institutions.
The San Francisco 49ers are not that far removed from a place in the Super Bowl, so Niners fans will soon be looking at the quarterback John Lynch picks at No. 3 in the 2021 NFL Draft as the savior who can get them back to the pinnacle of the sport.
San Francisco does get a quarterback in this three-round NFC West mock draft, but it's not the quarterback many will expect. Elsewhere in the division, the Seattle Seahawks came out on top last season but have almost no draft capital to get younger and better for 2021, while the Los Angeles Rams go another season without a first-round pick but do have a few middle-round picks to work with. Meanwhile, the Arizona Cardinals continue to believe in their tremendous upside but are yet to put it all together on the field in the Kliff Kingsbury/Kyler Murray era.
Oklahoma State RB Chuba Hubbard
Sophomore 6'1 207 lbs
Oklahoma State RB Chuba Hubbard led the nation in rushing with 2,094 yards. 3 other players rushed for over 2,000 yards: Malcolm Perry, JK Dobbins & Jonathan Taylor. Hubbard is the only one returning to school while the other 3 are off to the NFL. As of right now, Hubbard & Clemson's Travis Etienne are viewed as the top running backs for the 2021 NFL Draft class.
John Oliver discusses the long week of US presidential election results, including Donald Trump's various attempts to make the election appear illegitimate, and a historic win for Joe Biden and Kamala Harris.
Top news and content in style and technology.
Pork Pate | Kewpie Mayonnaise | Pulled Pork | Pickled Daikon and Carrots | Jalapeños | Cilantro | Sriracha | Limes
In his first interview since Election Day, President Donald Trump recapped baseless, false and misleading claims he has made before of a "rigged" election.
Pot profits predicted to soar with legalization on the horizon, so here's what a facility made to capitalize on the gains will look like.
Here's a look at players on the rise that might be worth picking up in week 4.
ENTER TO WIN A FREE CALENDAR & get monthly e-mails with the best deals from us and our partners.