When you purchase products or services through our links we earn a small commission. Thank you.
We're very excited to bring to you Leandro's famous egg nog recipe. This one off recipe was developed at Cole's French Dip when Leandro wanted to find a way to continue the tradition of his egg nog without making the barbacks have to batch a 20 person punch bowl before each shift. But, this egg nog was so popular that customers would ask for it through March.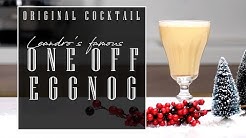 Specs for Leandro's One Off Egg Nog:
.75oz Smith and Cross Rum
.75oz Old Grandad Bonde Bourbon
1oz Heavy Cream
.5oz Simple Syrup
dash Cinnamon
dash Nutmeg
One whole Egg
Leandro's Egg Nog (Batch Recipe):
6 eggs separated
1 cup sugar
1 quart Whole Milk
1 Pint Heavy Cream
4 Ounces Four Roses Bourbon (or Grandad Bonded if preferred stronger)
4oz Smith & Cross Jamaican Rum
Nutmeg and Cinnamon for Grating
In a punch bowl beat yolks until they turn almost white adding .5 cups sugar as you beat.
Stir in the milk, cream, bourbon, rum and grate half the nutmeg plus a little cinnamon if desired. Let Chill at least 3 hours
Just before serving, beat the egg whites in a large mixing bowl with the remaining .5 cups of sugar util peaks form. Fold the whipped whites into the mixture.
Nestle the punch bowl into a larger bowl filled with crushed ice to keep it cold. Garnish with Nutmeg and Cinnamon to taste.
and just for fun here's George Washington's Egg Nog recipe:
1 Pint Brandy
.5 Pint Rye Whiskey
.5 Pint Jamaican Rum (i like Smith& Cross obviously)
.25 Pints Sherry Wine
12 eggs separated
12 Tablespoons (.75 cups) Sugar
1 Quart Milk
1 Quart Heavy Cream
Separate yolks and whites of the eggs.
Add sugar to beaten yolks and mix well.
Add combined liquors to the yolk and sugar mixture, drop by drop at first, slowly beating it all the while.
Add cream and milk and mix thoroughly.
Beat the egg whites until stiff and gently fold these into cream liquor and yolk mixture.
Let this sit in the refrigerator for several days.
Taste frequently.
If you found this video helpful and know of someone that would benefit from this video, please share it. 🍻🇺🇸📣
Heavily researched. Thoroughly vetted.