When you purchase products or services through our links we earn a small commission. Thank you.
Southern Candied Yams – The Perfect Thanksgiving Side Dish
If you're looking for the perfect Thanksgiving side dish, look no further than Southern Candied Yams! These sweet and sticky yams are the perfect addition to your Thanksgiving feast, and they're sure to be a crowd pleaser.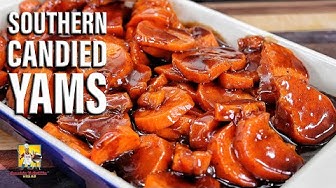 In this video, I'll show you how to make Southern Candied Yams from start to finish, and I'll provide step-by-step instructions so that you can make them perfectly every time. Whether you're a beginner or a seasoned cook, Southern Candied Yams are the perfect Thanksgiving side dish for you!
Ingredients:
2 lb. – Sweet Potatoes
¾ cup – Brown Sugar
1 cup – White Sugar
2 tsp. – Cinnamon
1 tsp. – Nutmeg
¼ tsp. – Ginger
¼ tsp. – Salt
2 tbsp. – Vanilla Extract
1 stick – Butter
1 – Orange, juiced
If you found this video helpful and know of someone that would benefit from this video, please share it. 🍻🇺🇸📣
Heavily researched. Thoroughly vetted.