When you purchase products or services through our links we earn a small commission. Thank you.
The MOST Delicious Southern Collard Greens | How To Make Collard Greens
If you like collard greens you will love this recipe. These southern collard greens are simmered in rich and flavorful chicken broth with smoked turkey drumstick and smoked hickory bacon . They're perfect for Thanksgiving or any day of the week. The bacon and onions give them a wonderful flavor.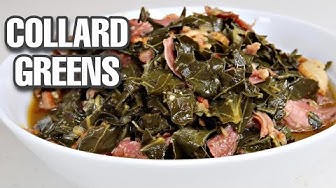 Ingredients
2 bundles – collard greens
1 – turkey drumstick
3 tablespoons – unsalted butter
4 strips – bacon
1 tablespoon – red hot sauce
1 small – onion diced
1 pack – my secret onion & soup mix 
1 teaspoon – garlic powder
1 tsp – onion powder
1 tbsp. – minced garlic
1 tsp – sugar
1 teaspoon – pepper flakes
1 teaspoon – salt
1 tablespoon – chicken bouillon
1 teaspoon – ground black pepper
1/2 tablespoon – better than bouillon
9 cups – chicken broth
If you found this video helpful and know of someone that would benefit from this video, please share it. 🍻🇺🇸📣
Heavily researched. Thoroughly vetted.