When you purchase products or services through our links we and our partners earn a small commission. Thank you.
The Noble Beast – a whole-egg holiday drink with BIG flavor!
Today I'm showing you an original holiday cocktail I call the Noble Beast! This is a whole-egg drink I've been wanting to make on the channel, but had to wait for the right moment. Well, the time has come. The holidays are here and this drink's worthy enough for Krampus – it's rich, bold, and the flavors will punch you in the mouth! Try the Noble Beast instead of egg nog this holiday season – it's not a drink you'll soon forget. Cheers!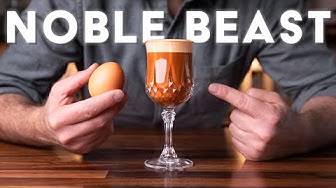 Noble Beast Cocktail Recipe
1 oz. (30 ml) Angostura Aromatic Bitters
1 oz. (30 ml) espresso or cold brew concentrate*
1/2 oz. (15 ml) rich Demerara syrup (2:1)
1 whole egg
Grated coffee bean for garnish
*COLD BREW CONCENTRATE
Combine 1 part by weight coarsely ground coffee with 8 parts by weight cold water. Stir to combine. Seal and store in fridge for 12-14 hours. Strain off grounds.
If you found this video helpful and know of someone that would benefit from this video, please share it. 🍻🇺🇸📣
Heavily researched. Thoroughly vetted.