When you purchase products or services through our links we earn a small commission. Thank you.
The One Thanksgiving Appetizer With Zero Leftovers Every Single Year
Today we're making Italian stuffed mushrooms! These are great for Thanksgiving or any holiday as an easy appetizer than can be made ahead of time. I hope you enjoy this stuffed mushroom recipe!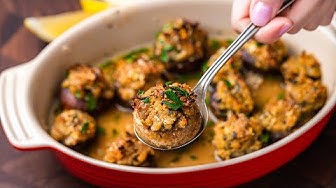 Page Sponsored by: Partisan For The People 👀👯‍♀️
Thanks to Flexispot for sponsoring this video! Click on my link: https://bit.ly/3V0ZXnv to get an extra $30 off your first order at Flexispot and be sure to check out their Black Friday deals! For my desk, the E7 there will be a Flash Sale on November 25th, $160 OFF. This is the best standing desk for WFH rated by TechRadar!
INGREDIENTS WITH GRAM AMOUNTS
-24 ounces (680 grams) white or cremini mushrooms see notes below
-½ cup parsley minced
-6 cloves garlic minced
-1 cup (120 grams) plain breadcrumbs
-⅝ cup (60 grams) Parmigiano Reggiano divided. ½ cup for stuffing and 2 extra tablespoons for topping
-½ cup (120 grams) olive oil
-1 ½ (6 grams) teaspoons kosher salt
-¼ teaspoon crushed red pepper
-½ (120 grams) cup dry white wine
-2 cups (480 grams)low sodium chicken stock divided
-3 tablespoons fresh lemon juice
-1 large lemon cut into wedges
If you found this video helpful and know of someone that would benefit from this video, please share it. 🍻🇺🇸📣
Heavily researched. Thoroughly vetted.