Today's Top Stories: 2/8/2021
The V-shaped recovery in the stock market is gathering serious momentum.
The S&P 500 is now 75% higher than its low point last March. The Nasdaq has more than doubled since its pandemic low. Tesla shares are up a staggering 900% over that span. And an army of traders on Reddit were able to send GameStop to the moon, at least for a few days.
Why the prices of both oil and the metals that seek to replace it are rising
We, the people, can and should hold our elected representatives accountable for not taking the Constitution seriously.
"If Huawei's production capacity can be expanded, that would mean more opportunities for U.S. companies," Ren said.
As former President Donald Trump's second impeachment trial begins, a 56%-majority of Americans would like the Senate to vote to convict him, and the same percentage say he encouraged violence at the Capitol — views that are still somewhat linked to Americans' presidential votes in 2020, reflecting ongoing partisan division.
Many U.S. states aren't rigorously tracking or investigating suspected cases of reinfection
An infrastructure plan won't be enough to fix the inequities built into our neighborhoods, homes, and public spaces.
The Biden administration will start the transition process for Senate-confirmed U.S. attorneys as early as Tuesday, but expects to keep in place two prosecutors leading high-profile, politically sensitive investigations, a senior Justice Department official tells NPR.
An analysis by the nonpartisan Congressional Budget Office released Monday found that the $15 federal minimum wage bill proposed by Democrats would cut jobs for 1.4 million workers by 2025, but lift 900,000 people out of poverty.
Americans moved closer to family during the pandemic. What if they stay there?
James Corden pays The Weeknd a visit during rehearsals for his Pepsi Super Bowl LV Halftime Show to offer some unwarranted advice. From focus to choreography, James has plenty of tips for making sure The Weeknd delivers on the big stage. #SBLV
Machine-learning systems could help flag hateful, threatening or offensive language
Booming business during the pandemic hasn't always meant better wages, and they have largely been left off vaccine priority lists.
Even as the coronavirus was surging around the nation, Americans started millions more small businesses last year.
The Department of Employment Services has been backlogged for months.
The second impeachment trial of former President Donald Trump begins this week as Senate leaders reached an agreement Monday, giving the impeachment managers and Trump's lawyers up to 16 hours each to present their cases and creating the option for a debate and vote to call witnesses — if the House impeachment managers seek it.
Tesla is betting big on bitcoin, saying it may soon accept the digital currency as payment for its cars. And the most valuable car company on the stock market said it is holding some of its cash in bitcoin rather than traditional currency.
10 of today's top stories from around the web. Sports, business, politics, comedy, and… [more]
After leaving the meaning of his bandaged character up for interpretation for more than a year, The Weeknd finally explained the story line behind his After Hours era.
Conservative attorney and Trump critic George Conway discusses the arguments presented for former President Trump on the eve of his second impeachment trial.
President Joe Biden's $1.9 trillion coronavirus relief plan would provide a third round of federal stimulus checks to millions of Americans. Yet while lawmakers on both sides of the aisle have expressed support for the proposal, there is less agreement on who should be eligible for the $1,400 direct payments.
What do you think of the world today? Let us know in the comments section below.
Share this page with a friend:
If you enjoy current events we think you'll like this too:
On September 11, 2012, a partially armed group of men stormed a US diplomatic outpost in the Libyan city of Benghazi. At the time, it was not clear who they were or why they'd attacked. But by the time the attack was over, four Americans, including US Ambassador to Libya Christopher Stevens, had been killed. The attack ended by the early hours of September 12. But it has echoed in Washington ever since. The controversy has centered on Republican accusations that the Obama administration did not take heed of intelligence warnings before the attack, that during the attack it refused to call in available military support, and that after the attack it deliberately covered up what had happened. Repeated independent investigations have disproven all of these allegations. But Republicans have continued to push them, insisting that these failures go all the way to the top, personally involving President Obama and then-Secretary of State Hillary Clinton. They've done so partly out political expediency — they think it's a great way to attack Clinton's presidential campaign — and partly out of a genuine belief that the administration is covering up the truth. But regardless of the motivation, it's kind of paid off for Republicans: The House Select Committee on Benghazi, created by Speaker of the House John Boehner in 2014, found the first documented evidence that Clinton used unauthorized private email servers for State Department business, which became a major scandal. Unless Clinton is defeated in the Democratic primary, Benghazi will be around for the rest of the 2016 election — and if she wins, you'll likely be hearing about it for much longer.
Q: Is it true that there were more votes than voters in Wood County, Ohio, and St. Lucie County, Fla., and that Obama lost every state with photo ID laws?
A: No. A viral email that makes those claims is bogus. It fabricates Ohio and Florida results. Also, Obama won four of the 11 states with photo ID laws.
You might not know who Arjan Roskam is, but you've probably smoked his weed. Arjan's been breeding some of the most famous marijuana strains in the world—like White Widow, Super Silver Haze, and many others—for over 20 years.
In 1992 he opened his first coffee shop in Amsterdam and has since crafted his marijuana-breeding skills into a market-savvy empire known as Green House Seed Company, which rakes in millions of dollars a year.
He's won 38 Cannabis Cups and has dubbed himself the King of Cannabis.
VICE joins Arjan and his crew of strain hunters in Colombia to look for three of the country's rarest types of weed, strains that have remained genetically pure for decades. In grower's terms, these are called landraces. We trudge up mountains and crisscross military checkpoints in the country's still-violent south, and then head north to the breathtaking Caribbean coast. As the dominoes of criminalization fall throughout the world, Arjan is positioned to be at the forefront of the legitimate international seed trade.
Pain researcher Dr. Jason McDougall discusses questions around medical cannabis and what it means for people living with arthritis.
How is hash made? Have you ever wondered how the hash you find on dispensary shelves is made or wanted to make it yourself? Recently we visited Sugarleaf Farm in Skagit County, Washington to find out how they make their pressed hash.
Mark Brinn, owner of Sugarleaf Farm and Funky Skunk Extracts, walked us through the steps he takes when concentrating cannabis into pressed bricks of hash. Using a modern take on traditional hash-making techniques, Mark creates a concentrate through a process that is entirely mechanical and does not use butane or any other solvents to extract the cannabinoids and terpenes from the cannabis plant.
Pot profits predicted to soar with legalization on the horizon, so here's what a facility made to capitalize on the gains will look like.
Donald Trump said he's worried about a "rigged" general election, citing "precincts where there were practically nobody voting for the Republican" in 2012. Voting experts said such outcomes in certain urban districts were entirely plausible given the demographics.
Donald Trump is citing unsubstantiated urban myths and a contested academic study to paint a false narrative about rampant voter fraud in the U.S. and the likelihood of a "rigged" election.
Donald Trump falsely claimed that "John Podesta, Hillary Clinton's campaign chairman, was quoted in WikiLeaks as saying, illegal immigrants could vote as long as they have their driver's license." Podesta said no such thing.
President-elect Donald Trump baselessly claimed that he "won the popular vote if you deduct the millions of people who voted illegally." Even the author of the study upon which the claim is based doesn't buy that.
President Donald Trump continues to claim — without any evidence — there was massive voter fraud in the 2016 presidential election.
In an ABC News interview that aired Jan. 25, President Donald Trump doubled down on false and misleading claims about voter fraud.
Our fact-checking collaboration with CNN's Jake Tapper resumes this week with a video looking at bogus claims about voter fraud made by President Donald Trump and White House Press Secretary Sean Spicer.
White House senior policy adviser Stephen Miller doubled down on President Trump's unsupported claim that thousands of voters were bused in from Massachusetts to vote illegally in New Hampshire.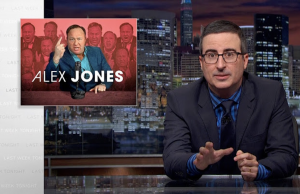 Alex Jones is known for pushing conspiracy theories, but he also spends a lot of time promoting his own products. John Oliver and a "doctor" "from" M.I.T. test out his marketing strategy.
Q: Did NPR report that a study found "over 25 million Hillary Clinton votes were completely fraudulent," and that she "actually lost the popular vote"?
A: No. That claim was made in a story that conflates a 2012 article about inaccuracies in voter registration rolls with actual fraudulent votes.
Kris Kobach, vice chairman of the Presidential Commission on Election Integrity, claims to have "proof" of voter fraud in New Hampshire that may have swung a U.S. Senate election in favor of the Democrats. He doesn't.
This week's fact-checking video from CNN's Jake Tapper and FactCheck.org shows why Kansas Secretary of State Kris Kobach does not have "proof" of widespread voter fraud in New Hampshire.
It was 1984 and General Vladimir Alexandrovich Kryuchkov had a problem. The general occupied one of the KGB's most exalted posts. He was head of the First Chief Directorate, the prestigious KGB arm responsible for gathering foreign intelligence.
Kryuchkov had begun his career with five years at the Soviet mission in Budapest under Ambassador Yuri Andropov. In 1967 Andropov became KGB chairman. Kryuchkov went to Moscow, took up a number of sensitive posts, and established a reputation as a devoted and hardworking officer. By 1984, Kryuchkov's directorate in Moscow was bigger than ever before—12,000 officers, up from about 3,000 in the 1960s. His headquarters at Yasenevo, on the wooded southern outskirts of the city, was expanding: Workmen were busy constructing a 22-story annex and a new 11-story building.
President Donald Trump made an apples-to-oranges comparison to suggest that his predecessor and Democrats have changed their tune on election rigging.
Q: Is California planning to "automatically register illegal immigrants to vote"?
A: No. The headline making that claim is false and misrepresents the law in California.
Late breaking news revealing Sean Hannity as Michael Cohen's secret client literally knocks Stephen off his feet.
Q: Did Fox News reveal that President Obama rigged the 2016 election with "4 million illegal votes"?
A: No. That falsehood is based on a pre-election interview with an election lawyer who discussed the possibility of votes being cast on behalf of dead people.
Todays video shows the harvest process I use for my medicinal cannabis. Im showing the drying and curing process. Everything is grown under led grow lights with organic nutrients.
Q: Is California registering noncitizens to vote?
A: No. A state motor-voter program and a San Francisco school board measure have fueled that false claim.
In this video, we go over some of the basics about medical cannabis.
In Stormy's first interview for her new book Full Disclosure she talks about meeting Donald Trump in Lake Tahoe, the details of the night they spent together in his hotel room, demonstrates how she spanked him with a magazine, witnessing a phone call he had with Hillary Clinton, reveals what she found in his bathroom, why she prayed for death during sex with him, and picks which mushroom resembles Trump's penis the most from a line-up Jimmy provided for her.
Q: Did Sen. Chuck Schumer say "it's racist to only allow citizens to vote"?
A: No. A Facebook meme and viral stories continue to incorrectly quote the Senate Democratic leader.
Ben and Brent visit Moto Perpetuo Farm, where pigs are fed a diet that includes cannabis.
Sebastian Maniscalco on how interesting and weird the experience is in Ubers and Air BnBs.
With votes continuing to be counted in very close elections in Florida, Georgia and Arizona, President Donald Trump and some other Republicans have been crying foul, making false and misleading claims of supposed election fraud perpetrated by Democrats in an attempt to "steal" the elections.
Amid a contentious Florida recount, Donald Trump Jr. tweeted a six-year-old, and outdated, story to suggest hundreds of thousands of noncitizens could have voted in the state. The story includes an update saying just 85 noncitizens were ultimately removed from the state's voter rolls in 2012.
CNN's Jake Tapper examines bogus claims about voter fraud in this week's fact-checking video in collaboration with FactCheck.org.
Q: Was "voter fraud" responsible for Democratic wins in Orange County, California?
A: There have been no credible complaints of voter fraud in Orange County following the midterm elections.
President Trump wrongly claims that "58,000 non-citizens voted in Texas." That's based on the state's efforts to match driver's license and state ID card applications from noncitizens to voter registration rolls. But none of those on the lists have been confirmed as noncitizen voters.
A photo of two people, one of whom is in blackface, has been circulating online for years with the unfounded claim that it shows Bill and Hillary Clinton. A Twitter user said he posted the photo in 2015, even though he had no evidence it was the Clintons, to "stir interest."
A viral meme is spreading false information connecting the infamous drug lord El Chapo to three major Democratic politicians.
A viral meme has revived an old, baseless conspiracy theory claiming that Hillary Clinton is linked to the Oklahoma City bombing.
In an interview about the Mueller report, Rudy Giuliani, President Donald Trump's personal attorney, distorted the facts in repeatedly making the case that there was "no obstruction" by Trump.
#Canndescent (pronounced Can-Des-Ent) cultivates ultra-premium #cannabis flower for the adult-use, market and closed 2017 as California's #1-selling flower brand. In 2016, Canndescent became the first cultivator in the world to abandon traditional strain names, implementing a more shoppable strain architecture of Calm, Cruise, Create, Connect and Charge.
The company produces over 10,000 pounds of cannabis each year and is often described as the inventor of luxury cannabis. At Canndescent, they marry the mastery of cannabis cultivation with the canvas of your life. That is the Art of Flower.
President Donald Trump joins 'Hannity' to discuss his re-election rally, economic agenda and the Russian collusion narrative. #Hannity #FoxNews
President Donald Trump falsely suggested that California admitted that "a million votes" were cast as part of "much illegal voting" in that state during the 2016 presidential election.
A false story spread across social media wrongly claims that NBC News reported that Hillary Clinton "covered up" a "pedophile ring" at the Department of State. The report is from 2013 and did not say that.
Still trying to make sense of CBD, THC and the 100+ other cannabinoids present in the cannabis plant?
Renowned Chief Scientist and biochemist Samantha Miller introduces you to the full spectrum of cannabinoids, their physiology, interaction with the endocannabinoid system and specific therapeutic uses in this comprehensive presentation.
Unfounded claims and baseless conspiracy theories have run rampant in the aftermath of the Aug. 10 death of accused sex trafficker Jeffrey Epstein. Here we recap some of the stories that we have written so far on the Epstein case.
Jeffrey Epstein's connections to former President Bill Clinton and to President Donald Trump have provided the basis for unfounded conspiracy theories about Epstein's death.
This empowering and thought provoking talk challenges the standard definition of a 'healthy lifestyle', examines the impact that the mind has on the body, and shines light on how and why cannabis works for a variety of medical conditions. Elise Keller explains how the biological mechanism responsible for how cannabis works in our body – the endocannabinoid system – could have us all reconsidering what it means to stay physically healthy. Elise Keller is the founder of Rise CannaCoaching and Rise.Thrive.Soar –- an online breast cancer community group for women who are learning to support their endocannabinoid system during cancer treatment and beyond.
Elise started Rise after experiencing first hand how difficult it is to get sound, meaningful and evidence based information about how to use cannabis as a cancer patient The further she fell into cannabis medicine, the more it became evident to her that cannabis was in fact a gateway drug after all – a gateway to connecting to a new understanding of whole health, and what it means to live a healthy lifestyle
Sebastian Maniscalco complains about people who still pay with checks and talks about the pitfalls of shopping for clothes on clearance.
Viral headlines wrongly suggest that the Ukrainian government gave more money than any other country to the Clinton Foundation. But the 2015 news report cited does not support that.
Marijuana is a projected 55 billion dollar industry that's only available for adult use in just 11 states and medically legal in a little over half the country. As fortunes are being created and millions of dollars are being invested, over-regulating and restricted access have placed the wealth of legal marijuana into the hands of a select few, causing Democratic presidential candidates to use phrases like reparations or restorative justice in describing their plans for federal legalization. So we talked to some cannabis entrepreneurs in the Bay Area where some of these plans already exist to find out if they have brought equity to the industry or if they have handed the keys to corporate interests.
A Macedonian website is peddling a baseless Hillary Clinton conspiracy theory that has amassed tens of thousands of shares on Facebook. The story implies that Clinton was involved in the deaths of two Baltimore-area law enforcement officers, and makes the unfounded claim that they were scheduled to testify against her.