When you purchase products or services through our links we earn a small commission. Thank you.
Tropical Creamy Eggnog | Holiday Cocktail Time Special
Cocktail Time is back with another holiday special episode! This time I made a tropical eggnog, with coconut, pineapple (in the Tequila), and banana oleo saccharum. Oh and it's 100% dairy-free, so no tummy aches next morning! Why did I make it? To get back my stolen Cocktail Time watch! Make this for your family during the holidays and even the relative, who you call the Grinch behind his back, will love it! Find the recipe below. Cheers and enjoy the holidays!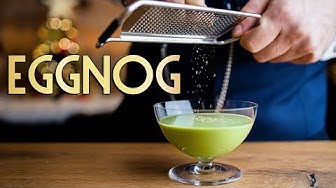 2 egg yolks
90 ml (3 oz) banana oleo saccharum*
200 ml (6.75 oz) coconut cream
100 ml (3.33 oz) coconut milk
4 drops saline solution
105 ml (3.5 oz) smoked pineapple Anejo Tequila
45 ml (1.5 oz) Fino sherry
4 g matcha powder
Make this cocktail in a blender, adding ingredients in the above written order. Chill the cocktail in the fridge. When serving, grate some nutmeg on top.
peels of 2 organic bananas
10 g white peppercorns
2.5 g allspice
250 g sugar
Lightly crush the spices with a mortar and pestle. Add all ingredients into a closed container (preferably a vacuum sealed sous vide bag). Strain the syrup after 3 days, when all the sugar dissolves. Use as a funky tropical sweetener in your favorite cocktail.
If you found this video helpful and know of someone that would benefit from this video, please share it. 🍻🇺🇸📣
Heavily researched. Thoroughly vetted.