When you purchase products or services through our links we and our partners earn a small commission. Thank you.
Trump Claims Immunity EVEN IF HE'D SAID to "Burn Congress Down!!!"
Jesse talks about a recent legal argument before a three-judge panel in federal court where the Trump team argued that even if he had literally asked the mob to burn congress to the ground, I would have absolute immunity against prosecution.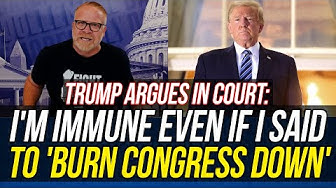 Subscribe to my twice-weekly podcast "I Doubt It" on Apple Podcasts, Google Podcasts, Spotify, or at https://www.dollemore.com.
If you found this video helpful and know of someone that would benefit from this video, please share it. 🍻🇺🇸📣
Heavily researched. Thoroughly vetted.