When you purchase products or services through our links we earn a small commission. Thank you.
You've Never Had Cornbread Like This Before | Delicious Creole Style Cornbread
It's officially comfort food season and nothing pairs better with most comfort food dishes than Cornbread! Today we are cooking out of our Best of Both Worlds Cookbook again and this one is a classic! Give this a try and let me know what you think.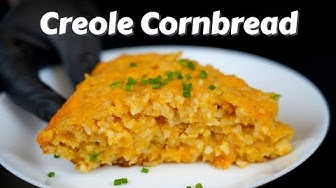 Shopping List:
2 cups – Cooked Rice
2 – large Eggs, room temperature
1 cup – Whole Milk
1 cup – Yellow Cornmeal
1/2 cup – chopped Onion
1-2 – chopped Jalapeno Peppers
1/2 tsp – Baking Soda
1 tsp – Salt
1/4 cup – Canola Oil
1 (14.5 ounces) can – Cream-Style Corn
3 cups – shredded Cheddar Cheese
AP Seasoning Cajun or Creole Seasoning
If you found this video helpful and know of someone that would benefit from this video, please share it. 🍻🇺🇸📣
Heavily researched. Thoroughly vetted.