When you make purchases through our links we may earn a small commission.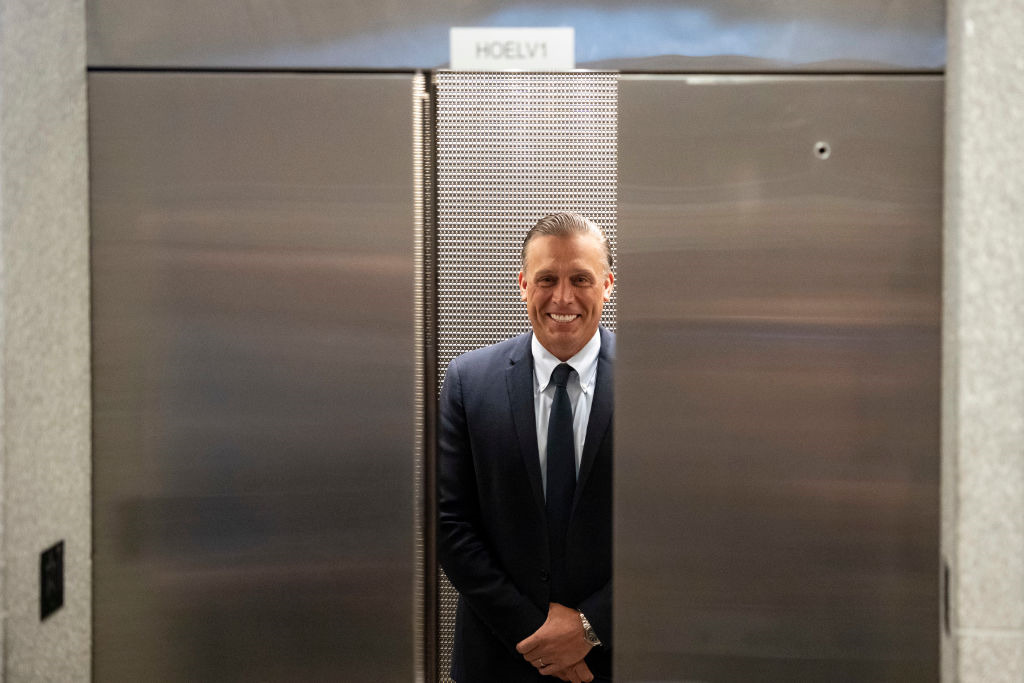 Congressional testimony by Hunter Biden's former business partner, Devon Archer, on July 31 led to competing narratives about what Archer said, and how damaging his testimony was to President Joe Biden. We sort through the facts.
Archer revealed that on about 20 occasions over a 10-year period, Hunter Biden put his father on speakerphone to exchange pleasantries with Hunter Biden's foreign business associates, part of what Archer described as the "brand" that Hunter Biden brought to foreign business deals.
But contrary to what some Republicans claimed, Archer said Joe Biden never discussed any business on those calls, and more often than not did not even know to whom he was speaking. Archer said he had no knowledge that Hunter Biden ever influenced his father to change any policies to further his son's businesses.
Republican Rep. James Comer, chairman of the oversight committee, has accused Joe Biden of taking a bribe from a Ukrainian executive and said after Archer's testimony that the bribery allegation is "more credible" — though Archer said he did not know anything about such a bribe.
Archer contradicted Republican claims – amplified by then-President Donald Trump during the 2020 presidential campaign –– that the wife of a former Moscow mayor paid Hunter Biden $3.5 million. Archer said that money was mistakenly put in an account once shared by Hunter Biden.
Archer's testimony also cast some doubt on allegations that then-Vice President Biden forced the ouster of Ukraine's prosecutor general at the behest of executives of the Ukrainian oil and gas company Burisma, where Hunter Biden was being paid $1 million a year as a board member. Archer testified that the Burisma public relations team in Washington, D.C., told him at the time that the prosecutor was under Burisma's "control" and that the vice president's advocating for the prosecutor's ouster was bad for the company.
Nonetheless, Archer's testimony did paint a picture of Hunter Biden as a businessman who liked to emphasize the access he had to his father and leave the impression that he could influence his father to troubleshoot on behalf of foreign clients, even when that wasn't true.
For example, Archer was asked about an April 12, 2014, email Hunter Biden sent to him ahead of an upcoming visit to Ukraine by the elder Biden.
"The announcement of my guy's upcoming travels should be characterized [to Burisma officials] as part of our advice and thinking — but what he will say and do is out of our hands," Hunter Biden wrote. "In other words, it could be a really good thing or it could end up creating too great an expectation. We need to temper expectations regarding that visit."
Archer said it was an example of Hunter Biden trying to "get credit" for his father's actions, even though he had no influence over them.
Hunter Biden "was getting paid a lot of money and I think, you know, he wanted to show value," Archer said.
Archer said he was not aware that Hunter Biden had ever asked his father to change a foreign policy.
"In other words," Archer was asked, "it's not that Hunter Biden was influencing U.S. policy. It's that Hunter Biden was falsely giving the Burisma executives the impression that he had any influence over U.S. policy?"
"I think that's fair," Archer said.
One of the bigger revelations in Archer's testimony was that he recalled about 20 occasions over 10 years when Hunter Biden put his father on speakerphone in the midst of meetings with overseas business associates or potential business associates.
Archer said it was all part of "the brand" Hunter Biden advertised and leveraged.
Archer said Hunter Biden's job was to provide "corporate governance … but obviously, given the brand, that was a large part of the value. I don't think it was the sole value, but I do think it was a key component of the value."
And while Archer said he was not aware that the vice president had ever taken any policy actions to assist his son's business, that doesn't mean Hunter Biden's link to his father didn't provide value.
"My only thought is that I think Burisma would have gone out of business if it didn't have the brand attached to it. That's my, like, only honest opinion," Archer said. Burisma was only "able to survive for as long as it did" because of "the brand" association that Hunter Biden brought by being a member of the Burisma board. "Because people would be intimidated to mess with them," Archer said. "Legally."
At one point, Democratic Rep. Dan Goldman asked if Hunter Biden was "selling the illusion of access to his father" but not actual access.
"Right," Archer said. "An illusion of access to his father, other than social." There was social access, he said, including two dinners that Joe Biden attended and speakerphone calls when overseas business associates of Hunter Biden's were present.
"In the rearview, it's an abuse of soft power, I'd say," Archer said of Hunter Biden in a subsequent interview with former Fox News host Tucker Carlson on his new show, "Tucker on Twitter," which is on the social media platform now known as X.
The U.S. attorney's office in Delaware has been investigating Hunter Biden for years.
A plea deal between federal prosecutors and Hunter Biden — which included a recommendation of probation on two misdemeanor charges for not paying federal taxes and an agreement to enter into a pretrial diversion program for a felony charge of firearm possession by a user of a controlled substance — fell apart on July 26. The deal dissolved after U.S. District Judge Maryellen Noreika raised questions about whether the deal shielded Hunter Biden from other federal charges, such as, hypothetically, failing to register as a foreign agent.
On Aug. 11, U.S. Attorney General Merrick B. Garland announced the appointment of U.S. Attorney David Weiss to serve as special counsel in the ongoing investigation into Hunter Biden, "as well as for any other matters that arose or may arise from that investigation." As we have written, Weiss is the U.S. attorney for Delaware who was appointed by former President Donald Trump.
Archer: Joe Biden Didn't Talk Business
Some Republicans seized on Archer's testimony about these social contacts to claim the elder Biden has repeatedly lied about never discussing his son's business with him or others.
Archer "told us in his transcribed interview that he heard Hunter Biden speak to Joe Biden more than 20 times about their business deals," Rep. Marjorie Taylor Greene, a member of the House Oversight and Accountability Committee, told the Daily Caller on the day Archer testified. "Not about anything else, but about the business deals."
Rep. Lauren Boebert, another Republican member of the committee, posted on X, "Devon Archer confirmed today that the 'Big Guy' participated in more than 20 of Hunter's shady business deals. Biden lied and is compromised."
But the transcript of Archer's testimony contradicts those claims. Archer made a point to note that in those phone calls, Joe Biden never discussed business and only exchanged pleasantries.
"Hunter spoke to his dad every day, right? And so in certain circumstances, when you're in — you know, if his dad calls him at dinner and he picks up the phone, then there's a conversation," Archer said. "And the, you know, the conversation is generally about the weather and, you know, what it's like in Norway or Paris or wherever he may be. But that was — yeah, that happened."
Archer mentioned two specific instances, once when he and Hunter Biden were pitching business to executives of a large French energy company (which never panned out) and once in Beijing when they were having dinner with a Chinese businessman.
"From a blanket perspective, it was always, you know, what's the — you know, not necessarily the weather, but, you know, there's no … and I think you have to understand that there was no business conversation about a cap table or a fee or anything like that. It was, you know, just general niceties and, you know, conversation in general, you know, about the geography, about the weather, whatever it may be. But just on — as far as, like, a blanket for all of them … there was not a specific time that I witnessed a, you know, specific business deal or business dealings or, you know, specifics about any kind of financial stuff."
Although the elder Biden knew he was talking to his son's business associates, Archer said, Joe Biden often didn't even know to whom he was speaking.
Nonetheless, Archer said, those phone calls had a positive impact on "the brand," that Hunter Biden was offering.
"I think, at the end of the day, part of what was delivered is the brand," Archer said. "I think that that's what we're talking about, is that there was brand being delivered along with other capabilities and reach."
Archer: Not Aware of Any Bribes
Hours after Archer provided his testimony to the House oversight committee, Comer went on Fox News with Rep. Jim Jordan and said, "Every day, this bribery scandal becomes more credible."
Comer is referring to an FBI report made public on July 20 in which an FBI informant said that years ago, Burisma owner Mykola Zlochevsky told him he was "pushed to pay" bribes of $5 million each to Hunter and Joe Biden for what the informant understood was assurance that the Ukrainian prosecutor general at the time, Viktor Shokin, would be fired. The informant said Zlochevsky told him "he did not send any funds directly to the 'Big Guy'" — which the informant believes was a reference to Joe Biden — and that it would take investigators "10 years to find the records" of the illicit payments to the Bidens.
The FBI agent who wrote the report also stated, "Regarding the seemingly open and unsolicited admissions by [Vadym] Pozharskyi [the Burisma corporate secretary] and Zlochevsky about the purpose for their retention of Hunter Biden, and the 'forced' payments Zlochevsky made to the Bidens, [the informant] explained it is very common for business men in post-Soviet countries to brag or show-off. Additionally, it is extremely common for businesses in Russia and Ukraine to make 'bribe' payments to various government officials." The report states that the informant was "not able to provide any further opinion as to the veracity of Zlochevsky's aforementioned statements."
Archer referenced those notes when asked if he found the bribery claim credible.
"I think it's — the agent explains it pretty well on the bottom," Archer said. "And it's similar to, you know, Hunter Biden taking credit for his dad's visit. It's like sending a signal."
Archer said he was not aware of any $5 million payments to either Hunter or Joe Biden.
Q: Were you ever made aware of Mr. Zlochevsky paying $5 million to two different Bidens?  

Archer: No, I'm not. I would assume he's probably talking about me and Hunter, but I don't know. But I don't know anything about those five.
During his testimony, Archer was asked, "If someone were to conclude from this that this is evidence, this [FBI] Form 1023 is evidence that Joe Biden was bribed by Mykola Zlochevsky, would you disagree with that conclusion?"
"Yeah, I would," Archer said.
Archer agreed that the way Ukrainian businessmen exaggerate and "tell fibs" about bribes is "similar" to the way political operatives in Washington, D.C. "give off the impression of access that they don't necessarily deliver on."
"In Ukraine, in Russia, they brag about how much — they brag about bigger bribes than they actually give," Archer said.
No Proof of a 'Quid Pro Quo' With Firing of Shokin
After a Burisma board meeting in Dubai in December 2015, Archer said, Hunter Biden placed a phone call to "D.C." after Zlochevsky made an appeal for political help to resolve some problems Burisma was facing at the time. After Archer's testimony, Comer and Jordan went on TV and claimed Hunter Biden's phone call resulted in Joe Biden calling for Shokin's firing. Comer called it evidence of an illegal "quid pro quo." 
Archer "also said that Hunter Biden was under immense pressure while they both served on the Burisma board to call Washington D.C. immediately and try to get Shokin fired," Comer said in the Fox News interview with Sean Hannity. "And not many days later, Joe Biden traveled to Ukraine, and we've all seen the video where Joe Biden brags about withholding foreign aid to Ukraine in exchange for the Ukrainian president firing the prosecutor who was investigating his son's corrupt energy company."
"That's a quid pro quo, Sean," Comer said. "That's very illegal."
Jordan described the events on Dec. 4, 2015, this way: "During that meeting, they say, 'We need the U.S. government to intervene. We're under pressure from the prosecutor, we're facing pressure in Great Britain because they've sanctioned and seized our assets – 23 million pounds, 23 million dollars. We need some help. They make a phone call to D.C. Mr. Archer said, 'I don't know who they called. But they called D.C.' And five days later, Dec. 9, 2015, Joe Biden is in Ukraine and he gives a speech, starting the pressure on the prosecutor in Ukraine."
"Five days after a phone call to D.C.," Jordan added. "Five days where they used the Biden brand — according to what we learned today, the Biden brand was the value Hunter Biden brought to this business arrangement. … Five days after this conversation takes place, this [Joe Biden] speech takes place and then a few months later … Shokin gets fired. That's how serious this was."
Archer didn't actually say specifically that Zlochevsky was seeking the ouster of Shokin. And the direct line Comer and Jordan draw between the meeting, the phone call to D.C. and Biden's subsequent call to oust Shokin is not supported by the timeline of events.
Hunter Biden joined the Burisma board of directors in May 2014. The previous month, British authorities had opened an investigation into Zlochevsky and froze $23 million in his accounts there. In August of that year, then-Ukrainian Prosecutor General Vitaly Yarema also opened an investigation into Zlochevsky on suspicion of "unlawful enrichment." Shokin replaced Yarema as prosecutor general in February 2015. Fast forward to a Burisma board of directors meeting in Dubai on Dec. 4, 2015. Archer, who was also a Burisma board member, said Burisma executives asked Hunter Biden for some political help.
"The request was I think they were getting pressure and they requested Hunter, you know, help them with some of that pressure," Archer said. Archer said it was "government pressure from Ukrainian Government investigations into Mykola [Zlochevsky], et cetera. But it was — it was not — it wasn't like a specific — not a specific request."
Archer said there were "several pressure issues," for Zlochevsky, including $23 million pounds "tied up in London" and U.S. and Mexican visas that were denied.
"And then there was — so Shokin wasn't specifically on my radar as being an individual … that was targeting him," Archer said. "But yes, there was constant pressure. And it was like — it was like whack-a-mole in regards to the pressures that had to resolve."
Archer said the request from the Burisma executives was "like, can D.C. help? But … there weren't specific, you know, 'Can the big guy help?' It was — it's always this amorphous, 'Can we get help in D.C.?' … But it was — yeah, it was a high-pressure environment, and there was — there was constant requests for help."
Archer said he was not privy to the phone call that followed, but he initially said that in response to the request, he was told that Hunter Biden "called his dad." Archer later clarified that the call was simply to "D.C." and he wasn't sure whom it was to.
Matthew Schwartz, Archer's attorney: He told you expressly he called his father or that he called D.C.?

Archer: D.C., D.C.
Five days later, on Dec. 9, 2015,Joe Biden visited Ukraine and delivered a speech to the Ukrainian Parliament in which he railed against the "shoals of corruption" and said, "The Office of the General Prosecutor desperately needs reform." Biden noted that a day earlier he had announced $190 million in new American aid to fight corruption, adding, "But for Ukraine to continue to make progress and to keep the support of the international community you have to do more, as well. … It requires difficult reforms."
Years later, in 2018, Biden famously boasted in a speech at the Council on Foreign Relations that around that time he threatened to withhold $1 billion in U.S. aid unless Shokin was fired.
"I said, you're not getting the billion. I'm going to be leaving here in, I think it was about six hours. I looked at them and said: I'm leaving in six hours. If the prosecutor is not fired, you're not getting the money," Biden said. "Well, son of a bitch. He got fired. And they put in place someone who was solid at the time."
In addition to that speech in Ukraine on Dec. 9, 2015, Biden also met in Kyiv with Ukraine's then-president, Petro Poroshenko, on Jan. 20, 2016, to discuss "the need to continue to move forward on Ukraine's anti-corruption agenda." And Biden had a phone call with Poroshenko on Feb. 11, 2016, and discussed, among other things, the need "to continue to take action to root out corruption and implement reforms." It's unclear from Biden's speech in 2018 exactly when he threatened to withhold aid unless Shokin were fired.
To be clear, Shokin was not immediately fired after Biden's speech on Dec. 9, 2015. He was removed in late March 2016.
Nor did Biden's or the American government's negative position on Shokin suddenly materialize in early December 2015, as Comer and Jordan's comments suggest.
In later congressional testimony, John E. Herbst, U.S. ambassador to Ukraine under George W. Bush, said, "By late fall of 2015, the EU and the United States joined the chorus of those seeking Mr. Shokin's removal as the start of an overall reform of the Procurator General's Office. U.S. Vice President Joe Biden spoke publicly about this before and during his December visit to Kyiv; but Mr. Shokin remained in place." (The emphasis is ours.)
Biden's Dec. 9, 2015, trip to Ukraine was also publicly announced on Nov. 13, 2015, several weeks before the Dubai meeting Archer described.
In a Dec. 2, 2015, background briefing prior to Biden's trip to Ukraine, an Obama administration "senior administration official" said: "The Vice President will emphasize the need to implement recently passed anti-corruption reforms. Ukraine has made significant strides in this regard, but there is a long history of corruption and of basically Ukraine oligarchs getting their way in the Ukrainian system. And while the Ukrainians have made good strides, there is still much more that needs to be done. So we'll — undoubtedly that will be a major focus of conversation." That was two days before the Dubai meeting.
Going back as far as Sept. 24, 2015, U.S. Ambassador to Ukraine Geoffrey Pyatt delivered a speech, declaring, "Corruption kills," and imploring that Ukraine "can, and must, address the problem of corruption now."
Pyatt singled out what he said were failures in the prosecutor general's office to properly investigate Zlochevsky, Burisma's owner.
Pyatt, Sept. 24, 2015: We have learned that there have been times that the [Prosecutor General's Office] not only did not support investigations into corruption, but rather undermined prosecutors working on legitimate corruption cases.

For example, in the case of former Ecology Minister Mykola Zlochevsky, the U.K. authorities had seized 23 million dollars in illicit assets that belonged to the Ukrainian people. Officials at the PGO's office were asked by the U.K. to send documents supporting the seizure. Instead they sent letters to Zlochevsky's attorneys attesting that there was no case against him. As a result the money was freed by the U.K. court and shortly thereafter the money was moved to Cyprus.
As we have written, at the time, the international community and anti-corruption advocates in Ukraine were also calling for Shokin to be removed from office for his failure to aggressively prosecute corruption.
In February 2016, International Monetary Fund Managing Director Christine Lagarde threatened to withhold $40 billion unless Ukraine undertook "a substantial new effort" to fight corruption after the country's economic minister and his team resigned to protest government corruption. That same month, a "reform-minded deputy prosecutor resigned, complaining that his efforts to address government corruption had been consistently stymied by his own prosecutor general, Viktor Shokin," according to a Jan. 3, 2017, Congressional Research Service report. 
So Archer's testimony didn't provide any proof that Biden pushed for Shokin's firing to help his son's business with Burisma.
Did Burisma Want Shokin Out?
The Republican theory that Joe Biden provided quid pro quo to Burisma by having Shokin removed relies on the assumption that Burisma wanted Shokin removed.
In a press conference after Archer's testimony, Goldman, a New York Democratic congressman, said, "Perhaps the most interesting thing that he [Archer] said is that Burisma believed that they had the prosecutor general, Shokin, in their pocket. They had control over him and they were concerned that if he was removed from office, that that would be very bad for Burisma."
That's not strictly accurate. Archer said that was "the narrative that was spun to me" by the Burisma PR team in Washington, D.C. But he said he never heard that from Burisma executives.
"The narrative that was spun to me was that Shokin was under control and that whoever the next person that was brought in was — you know, the fact that he was — this is the total, this is the narrative spun to me, that Shokin being fired was a — was not good, because he was like under control as relates to Mykola [Zlochevsky]," Archer said. That meant, he said, "that they were going to maybe give a slap on the wrist as opposed to, you know, seize all his assets."
"I have no way to verify that," Archer said. "And that was spun to me from various folks in D.C., not Hunter specifically, but that was what I was led to believe. Whether it's true or not, I cannot speculate."
There have been conflicting reports about whether Burisma would have wanted Shokin fired, and whether Joe Biden's efforts to remove him worked in Burisma's interest, or directly in opposition to them.
The New York Times in September 2019 reported that while Shokin "was not aggressively pursuing investigations into Mr. Zlochevsky or Burisma … the oligarch's allies say Mr. Shokin was using the threat of prosecution to try to solicit bribes from Mr. Zlochevsky and his team, and that left the oligarch's team leery of dealing with the prosecutor."
In December 2015, the Wall Street Journal reported that Zlochevsky was under investigation by Ukrainian and British authorities for "alleged criminal wrongdoing," and the article quoted anti-corruption advocates in Ukraine who were concerned that Zlochevsky would be protected from prosecution because of Hunter Biden's role with Burisma.
"If an investigator sees the son of the vice president of the United States is part of the management of a company … that investigator will be uncomfortable pushing the case forward," Daria Kaleniuk, executive director of Ukraine's Anti-Corruption Action Center, told the Wall Street Journal.
In July 2019, Kaleniuk told the Washington Post that "Shokin was not investigating. He didn't want to investigate Burisma. And Shokin was fired not because he wanted to do that investigation, but quite to the contrary, because he failed that investigation."
In 2019, Keith Darden, an associate professor at American University's School of International Service, told us in an email that there "is nothing more absurd than the notion that Shokin was removed to *prevent* him from prosecuting Zlochevsky…or any one else."
"Ukraine has had a long line of prosecutors whose function has not been to enforce the law, but to perform the political function of selectively prosecuting political enemies and to hold out the threat of prosecution in order to secure political loyalty and compliance," Darden said. "Shokin was precisely that kind of prosecutor. He would open cases as a way of holding the threat of prosecution over a business, but he did not actually prosecute cases. The reason that [the U.S. government the IMF, World Bank] and pretty much everyone else who wants reform in Ukraine wanted Shokin out was precisely because he was refusing to prosecute any corruption cases."
Michael McFaul, a former U.S. ambassador to Russia during the Obama administration, on Sept. 20, 2019, tweeted that the "Obama administration policy (not just 'Biden policy') to push for this Ukrainian general prosecutor to go" was "a shared view in many capitals, multilateral lending institutions, and pro-democratic Ukrainian civil society."
Archer: Hunter Didn't Get Money from Moscow Mayor's Wife
Late in the 2020 presidential campaign, Trump repeatedly alleged in campaignspeeches and in debates that Hunter and/or Joe Biden got $3.5 million from Yelena Baturina, a billionaire businesswoman and wife of the late Moscow Mayor Yury Luzhkov. The payment from Baturina was revealed in a joint report issued by Republican staff of the Senate Finance and Homeland Security committees less than two months before the election.
"Joe got $3.5 million from Russia and it came through Putin because he was very friendly with the former mayor of Moscow, and it was the mayor of Moscow's wife, and you've got $3.5 million," Trump said at the second presidential debate on Oct. 22, 2020. "Your family got $3.5 million. And you know, someday you're going to have to explain why did you get three and a half."
"I never got any money from Russia," Biden responded.
On Aug. 9, Comer issued a press release in which he said, "Russian billionaire Yelena Baturina transferred $3.5 million to Rosemont Seneca Thornton," which he said was "a shell company associated with Hunter Biden and Devon Archer."
During his congressional testimony, Archer said he was involved in a $120 million real estate deal with Baturina, CEO of the real estate company Inteco, that involved two warehouses in Brooklyn.
Archer acknowledged that $3.5 million from Baturina — which he said was a commission for the real estate deal — ended up in an account for Rosemont Seneca Thornton, a company in which Hunter Biden held an ownership stake. "Quite frankly," Archer said, "it was not supposed to go there, but that's where it went."
Archer said that Hunter Biden was "not involved" in that real estate deal, and that the money was supposed to have gone to Rosemont Realty. Archer said Hunter Biden had only a "minimal" connection to, and no ownership stake in, Rosemont Realty.
In April 2022, the Washington Post Fact Checker did a deep dive on the $3.5 million payment from Baturina and reported that Rosemont Seneca Thornton LLC was supposed to be quickly dissolved due to regulatory concerns from one of the partners, which jibes with what Archer said in his congressional testimony.
"But Rosemont Seneca Thornton was not dissolved as planned," the Washington Post reported. Unnamed sources "familiar with the company" told the Post that "Archer had kept the vehicle alive for his own real estate business, Rosemont Realty, which raised money from Eastern European and Central Asian investors." But, the sources said, Archer did not inform Hunter Biden or the third partner.
According to the Post, "Archer's secret was exposed when the Senate report was published. Confronted, Archer told [the third partner, James] Bulger that he had used Rosemont Seneca Thornton to transfer funds from Baturina to purchase real estate in Brooklyn, according to a participant in the conversation."
And as we said, according to Archer's testimony, Hunter Biden did not receive $3.5 million from Baturina.