When you make purchases through our links we may earn a small commission.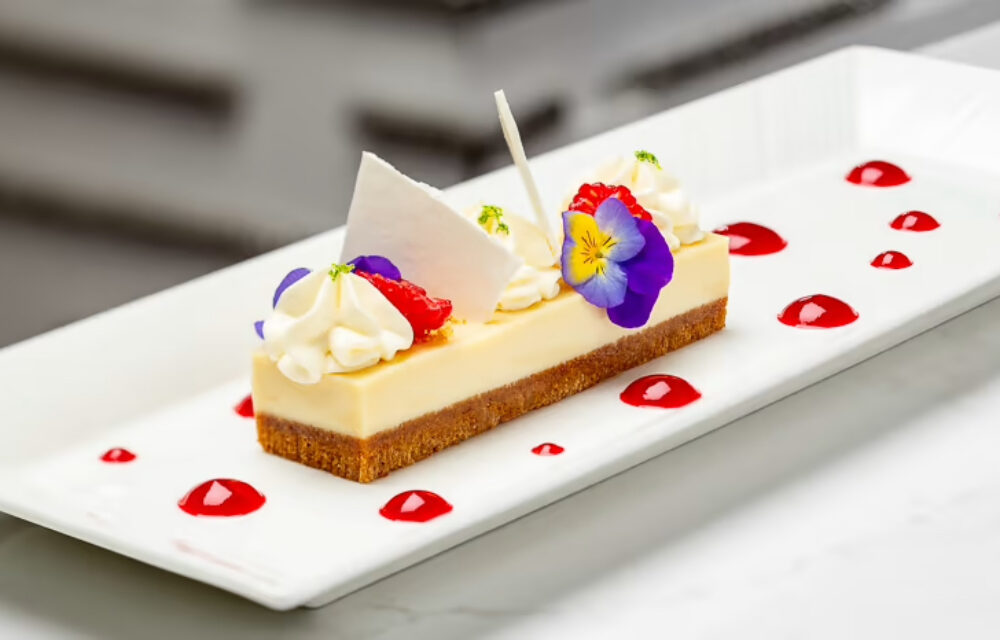 Experience the pinnacle of dining in Las Vegas with SW Steakhouse's Ultimate 8-Course Culinary Journey. From Truffle-Parmesan Popcorn to Chocolate Molten Lava Cake, indulge your senses today.
Las Vegas is renowned for its vibrant nightlife, entertainment, and, of course, its world-class dining establishments. Among these culinary gems, SW Steakhouse stands as a beacon of exceptional cuisine and luxury. If you're seeking an unforgettable gastronomic journey, look no further than SW Steakhouse. Prepare your palate for a sensational eight-course dining experience that will leave you mesmerized.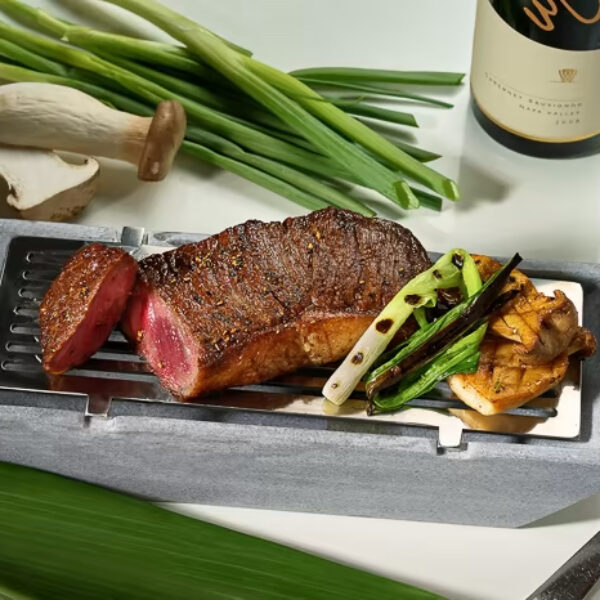 SW Steakhouse
~ Wynn Las Vegas ~ 

Prime aged steaks and a curated selection of certified Japanese and domestic Wagyu are the stars at the Forbes Travel Guide Four Star award winning SW Steakhouse. 
The amuse-bouche is the opening act, setting the stage for the culinary masterpiece that awaits. Here are five divine creations to delight your senses:
Truffle-Parmesan Popcorn: Begin with an explosion of flavors – the earthy richness of truffle combined with the savory allure of parmesan, all encased in the perfect popcorn kernel.



Ahi Tuna Tartare: Enjoy delicate cubes of fresh Ahi tuna, paired with avocado, sesame, and a hint of soy, served on a crisp wonton for a tantalizing start.



Foie Gras Mousse: Delight in the luxurious creaminess of foie gras mousse, served alongside warm, buttery brioche toast points and a sweet-tart fruit compote.



Lobster Bisque: Savor the depths of flavor in a bowl of rich and velvety lobster bisque, adorned with chunks of succulent lobster meat and a drizzle of sherry.



Chilled Oysters on the Half-Shell: Revel in the briny essence of freshly shucked oysters, served on a bed of crushed ice with zesty cocktail sauce and mignonette.
As you progress through your dining journey, SW Steakhouse offers a selection of delectable appetizers that will captivate your taste buds:
Wagyu Beef Carpaccio: Immerse yourself in the melt-in-your-mouth tenderness of thinly sliced Wagyu beef, accompanied by truffle aioli, arugula, and Parmigiano-Reggiano.



Grilled Octopus: Delight in the delicate texture and smoky flavor of grilled octopus, served with a citrusy charmoula sauce and roasted fingerling potatoes.



Crab Cake: Revel in a crispy yet tender crab cake, adorned with a zesty remoulade sauce and a burst of flavor from microgreens.



Duck Confit Tacos: Experience the fusion of flavors with duck confit tacos, where tender duck meat meets the crunch of taco shells and the freshness of slaw.



Burrata Caprese: Indulge in the creamy perfection of burrata cheese paired with heirloom tomatoes, fresh basil, and a drizzle of balsamic reduction.
Course 3: Soups and Salads
Elevate your dining experience with an array of soups and salads that showcase the elegance and sophistication of SW Steakhouse:
Southwest Caesar Salad: Savor the unique twist on the classic Caesar salad, featuring romaine lettuce, Cotija cheese, chili-lime tortilla strips, and chipotle Caesar dressing.



Tomato and Burrata Salad: Revel in the simplicity of ripe tomatoes, creamy burrata cheese, fresh basil, and a luscious aged balsamic reduction.



Butternut Squash Soup: Fall in love with the velvety smoothness of butternut squash soup, garnished with toasted pumpkin seeds and a drizzle of maple syrup.



Lobster Salad: Delight in the opulence of lobster salad, featuring succulent lobster tail, avocado, grapefruit, and mixed greens dressed in a citrus vinaigrette.



Wild Mushroom Bisque: Immerse yourself in the earthy flavors of wild mushroom bisque, enhanced by truffle oil and garnished with chive crema.
Course 4: Palate Cleanser
Before diving into the main courses, allow your taste buds to reset with a refreshing palate cleanser:
Lemon Sorbet: A scoop of zesty lemon sorbet that cleanses and rejuvenates your palate, leaving you ready for the exquisite flavors to follow.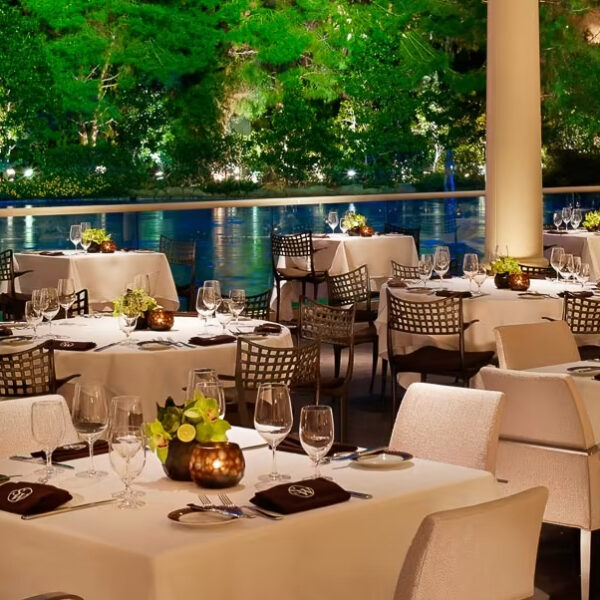 SW Steakhouse
~ Wynn Las Vegas ~ 

Think A5 Japanese Wagyu, dry-aged tomahawk chops and a chile-rubbed double rib eye, featured on Food Network's "Best Thing I Ever Ate." 
Course 5: Seafood Extravaganza
A Prelude to the Ocean's Bounty
Prepare to be mesmerized by an oceanic showcase that includes the freshest catches from the sea:
Alaskan King Crab Legs: Relish the succulence of Alaskan king crab legs, served with clarified butter for a truly indulgent experience.



Seared Scallops: Experience the perfection of seared scallops, enhanced by a delicate saffron cream sauce and a touch of crispy pancetta.



Blackened Red Snapper: Embrace the Cajun-inspired flavors of blackened red snapper, served with a corn and black bean salsa and a cilantro-lime drizzle.



Chilled Seafood Tower: Ascend to seafood heaven with a towering display of chilled seafood, including oysters, shrimp, crab claws, and lobster tails, accompanied by classic cocktail sauce and mignonette.



Miso-Glazed Chilean Sea Bass: Succumb to the umami richness of miso-glazed Chilean sea bass, complemented by a sweet soy reduction and sautéed bok choy.
A Prelude to Culinary Mastery
The main courses are the heart of your dining experience, showcasing the pinnacle of culinary artistry at SW Steakhouse:
Filet Mignon: Savor the unparalleled tenderness and flavor of a perfectly cooked filet mignon, served with your choice of delectable sauces such as béarnaise or red wine reduction.



Bone-In Ribeye: Delight in the robust flavor of a bone-in ribeye steak, grilled to perfection and accompanied by a truffle aioli.



Colorado Rack of Lamb: Enjoy the succulence of a Colorado rack of lamb, cooked to your preference and served with a luscious mint demi-glace.



Pan-Seared Duck Breast: Immerse yourself in the rich and savory essence of pan-seared duck breast, complemented by a pomegranate glaze and wild rice pilaf.



Vegetarian Risotto: Indulge in a creamy and flavorful vegetarian risotto, crafted with seasonal vegetables and a generous shaving of Parmigiano-Reggiano.
A Prelude to Complementarity
Complement your main courses with an array of sumptuous sides that enhance the overall dining experience:
Truffle Mac and Cheese: Dive into the indulgent depths of truffle-infused mac and cheese, where creamy meets earthy in perfect harmony.



Grilled White Asparagus: Relish the subtle elegance of grilled white asparagus spears, lightly seasoned with olive oil and sea salt.



Lobster Mashed Potatoes: Elevate your meal with decadent lobster mashed potatoes, where the brininess of lobster melds with the creamy goodness of mashed potatoes.



Wild Mushroom Risotto: Immerse yourself in the earthy flavors of wild mushroom risotto, enriched with a drizzle of truffle oil and Parmesan cheese.



Creamed Spinach: Enjoy the comforting and velvety goodness of creamed spinach, a classic steakhouse side that pairs perfectly with your main course.
As your dining journey culminates, indulge your sweet tooth with the divine desserts at SW Steakhouse:
Chocolate Molten Lava Cake: Surrender to the temptation of warm, gooey chocolate cake with a molten center, accompanied by a scoop of velvety vanilla ice cream and a drizzle of raspberry coulis.



Key Lime Pie: Experience a slice of tropical paradise with a tangy key lime pie, nestled in a buttery graham cracker crust and crowned with a cloud of whipped cream.



Crème Brûlée: Revel in the classic elegance of crème brûlée, where a silky vanilla bean custard meets a delicate caramelized sugar crust.



Tiramisu: Transport your taste buds to Italy with layers of coffee-soaked ladyfingers and mascarpone cheese, dusted with cocoa powder.



SW Chocolate Bar: Conclude your meal with a signature delight – the SW Chocolate Bar, featuring layers of chocolate ganache, caramel, and a chocolate glaze, served with a scoop of vanilla bean ice cream.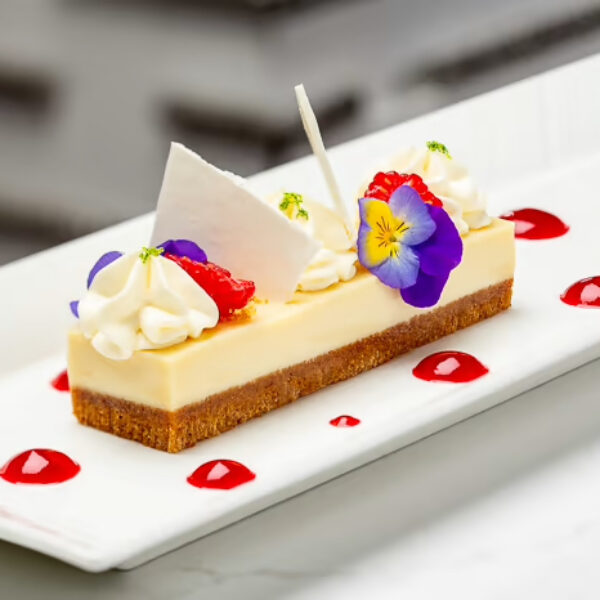 SW Steakhouse
~ Wynn Las Vegas ~ 

Main courses like pan-roasted sea scallops with English pea risotto and black truffle sauce are crowd favorites, as is the prime view of the nightly shows on the Lake of Dreams.
Prepare yourself for a culinary journey that transcends mere dining. SW Steakhouse in Las Vegas offers a symphony of flavors, textures, and artistic presentation that will leave an indelible mark on your palate and memory. Reserve your table today and embark on this extraordinary culinary adventure at SW Steakhouse. Bon appétit!