When you make purchases through our links we may earn a small commission.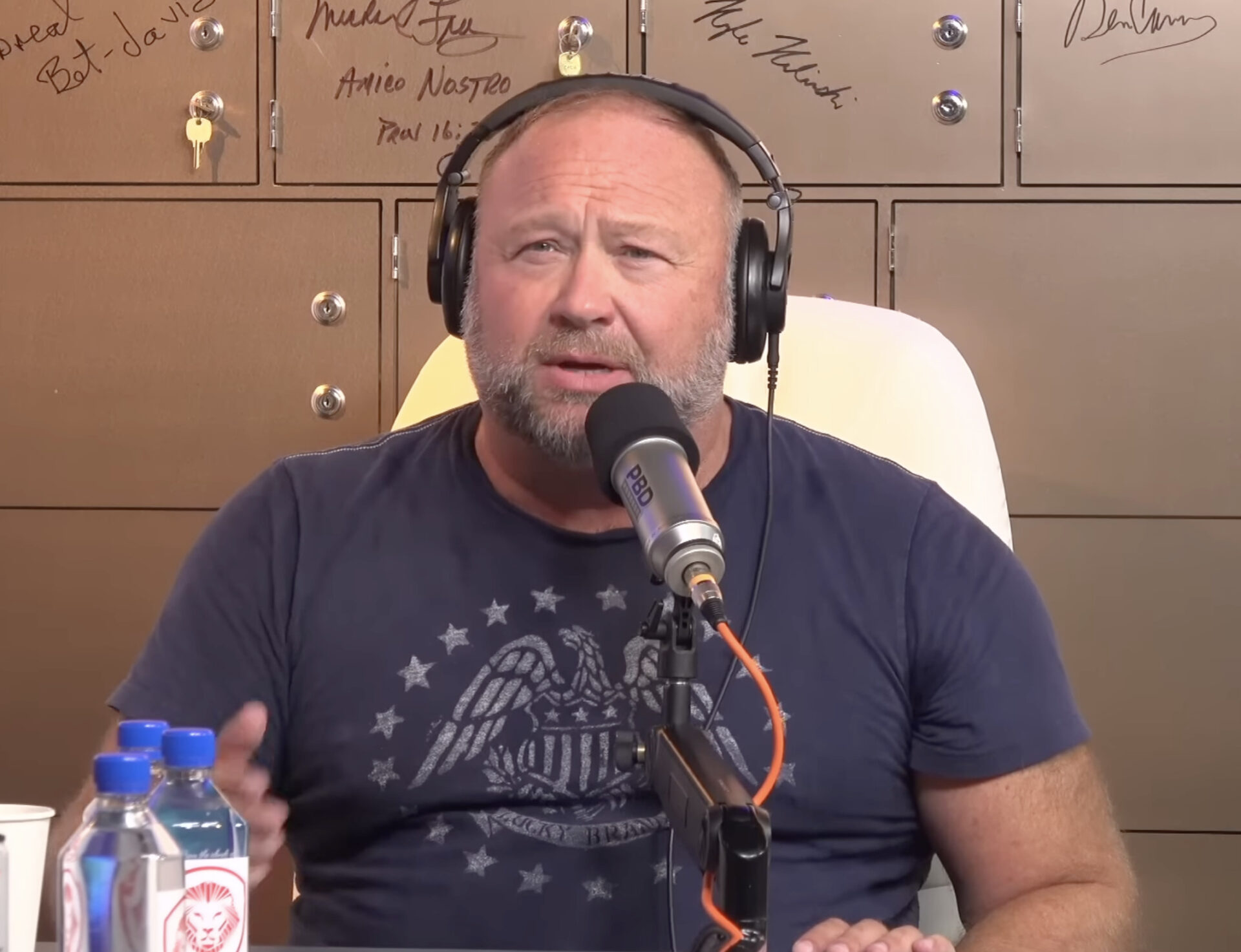 The U.S. is seeing an uptick in COVID-19 cases, so it may be prudent for people to wear masks when out in public and take a few extra precautions. But the government is not planning to implement mask mandates or "lockdowns," despite claims from the conspiracy theorist Alex Jones.
In recent weeks, COVID-19 cases, as estimated from wastewater data, and COVID-19 hospitalizations have been on the rise in the U.S. This comes as the omicron variant EG.5, recently designated as a "variant of interest" by the World Health Organization, became the newly dominant variant in the country.
This has led some public health experts to suggest that some people — especially those at higher risk of severe COVID-19 — wear masks when out in public, and to be a bit more cautious about contracting the coronavirus.
In a few limited instances, colleges and companies have announced they will be requiring masks for the time being.
But contrary to many viral social media posts, there is no indication that any kind of government-ordered COVID-19 restrictions are about to begin.
In an Aug. 18 episode of "The Alex Jones Show," the conspiracy theorist Alex Jones claimed sources within the federal government told him "new lockdowns are coming."
Specifically, he said a "high level manager" in the Transportation Security Administration told him that by mid-September, TSA and airport employees would be required to wear masks due to concerns over "the new variant in Canada." By mid-October, everyone would have to wear masks on airplanes, he said. He added that the public should expect by December a return to "full COVID protocols."
Jones then claimed that he called a source within Customs and Border Protection after hearing this, and the source allegedly told him to expect "COVID protocols" to begin rolling out in mid-September and to "get ready for a whole new rollout of what happened before."
The episode was headlined on Jones' website InfoWars as "Federal Officials Blow the Whistle on Biden's Plan for New COVID Lockdowns."
Jones is best known for his false claim that the Sandy Hook school shooting in 2012 was fake. Last fall, he was ordered to pay nearly $1.5 billion in defamatory damages to the families of the victims as a result of his falsehoods. Jones is also a prolific spreader of COVID-19 misinformation, among other topics.
Clips of Jones' show began circulating online, and dubious websites such as the Gateway Pundit, which frequently traffics in misinformation, and others reported on the "news," helping to spread the claims on social media. An associated rallying cry, "do not comply," briefly trended on X, the platform previously known as Twitter. Others have since repeated the claims.
Whether from Jones or not, the rumor that COVID-19 restrictions might be coming back has since been picked up by some politicians.
"If bureaucrats try to reinstate any COVID tyranny measures, resist them with a vengeance," tweeted Republican Rep. Thomas Massie of Kentucky on Aug. 25. "Do not comply."
No Basis for Returning COVID-19 Restrictions
A TSA spokesperson denied Jones' claims, noting that the Centers for Disease Control and Prevention — not TSA — is the federal agency responsible for transportation mask requirements. 
"TSA is unaware of such a requirement," the spokesperson told us in an email. "There was no TSA meeting on the topic."
The CDC similarly said the claims were untrue. "These rumors are utterly false," Nick Spinelli, a CDC spokesperson, told us in an email.
Moreover, all the talk of the Biden administration reimposing "lockdowns" is not even legally feasible. "The restrictions that were put into place on businesses, on going to the movie theater, on going to the retail mall … all of those were done by states and local governments, not the federal government," Wendy E. Parmet, a public health law expert at Northeastern University, told us in a phone interview.
The federal government did advise states on restrictions, including when to lift them, and guided Americans on what they should and should not do to stay safe. But ultimately, these were just suggestions.
"It's conspiracy thinking and it's catastrophizing," Parmet said of Jones' claims.
Parmet added that the restrictions in the U.S., which included business closures and limits on gathering sizes, were not true lockdowns, such as those imposed in China. "The 'lockdown' terminology is certainly a misnomer," she said.
Parmet said that legally, TSA probably could impose mask mandates on its employees, but those would not extend to all airport workers or to passengers. That would be a "labor law issue," she said, and there might be pushback from the union.
The CDC's ability to impose a face mask mandate during travel has been contested in court. (Parmet is one of many public health and public health law experts who signed an amicus brief supporting the CDC on this issue.) 
The CDC's previous order expired due to the end of the public health emergency in May and had already become unenforceable in April 2022 due to a court order.
"I think CDC would be extremely wary, and I suspect that the Biden administration will be exceptionally wary right now … for both litigation and political reasons to go down that route unless they feel it is absolutely essential," Parmet said.
Spinelli noted that the CDC "continues to recommend that all people—passengers and transportation workers, alike—are up to date on their COVID-19 vaccines before they travel and take steps to protect yourself and others." That can include wearing a mask, if you so choose, when using public transit — but it is not mandated.
The agency currently advises higher-risk people and their contacts to mask up when a person's county-level hospital admission level is "medium." When it's "high," everyone is advised to wear a high-quality mask or respirator, such as an N95, and higher-risk people are advised to avoid "non-essential indoor activities in public." But again, these are just recommendations.
As of Aug. 12, no counties are listed as "high," and fewer than 3% are "medium."
Some experts have criticized tying public health recommendations to hospital admissions, as this is a lagging indicator, and the warning to take more precautions may come too late for many people.
Customs and Border Protection did not respond to an inquiry about Jones' claims with any information by the time of publication.
Update, Aug. 28: CBP told us the agency follows CDC guidelines and that "[c]laims that CBP has plans to independently reintroduce COVID-19 protocols are false."
Some Concern from New Variants, But No Expectation of a Return to 2020
Scientists and public health officials have been watching two newer coronavirus, or SARS-CoV-2, variants: EG.5 and BA.2.86.
EG.5, which the CDC estimates made up about a fifth of all coronavirus cases in the U.S. in the past couple of weeks, is a spinoff of XBB.1.9.2, another omicron variant. In this regard, it doesn't appear to be that different from its immediate predecessors, although it may be a bit more transmissible and more readily able to evade immunity, which could explain its current rise. There isn't evidence that the variant causes more severe disease.
"Collectively, available evidence does not suggest that EG.5 has additional public health risks relative to the other currently circulating SARS-CoV-2 descendent lineages," the WHO concluded in an Aug. 9 risk evaluation report.
An updated COVID-19 booster, which targets the XBB.1.5 variant, is expected to be available in late September or early October. Because EG.5 is quite similar to XBB.1.5, expertsanticipate that the updated vaccine will provide good protection against this variant.
The other variant, BA.2.86, is an omicron descendant, but has many more mutations that make it considerably different. As Jesse Bloom, a computational biologist at the Fred Hutch Cancer Center, put it on X, its high number of mutations "makes it an evolutionary jump comparable in size to that which originally gave rise to Omicron."
Only a small number of BA.2.86 cases have been identified in the U.S. or elsewhere, but mutation analyses indicate the variant may be especially able to evade immune defenses. It is still too soon to know whether the variant causes more severe disease or is more transmissible, according to the CDC. The variant, however, has been identified in many countries, suggesting it has some ability to spread.
Even if BA.2.86 does turn out to be the next big variant, it would not be the same as 2020, when the entire world was susceptible to the coronavirus, with no kind of prior immunity and no vaccine available.
The forthcoming updated vaccine may be less effective against BA.2.86 than against other variants, but the CDC expects it will still work to reduce severe disease and hospitalization, which is the primary goal. This makes it highly unlikely that the U.S. would have to impose restrictions similar to those early in the pandemic, even if there is a bad COVID-19 surge and public health officials encourage people to take extra precautions.
"We aren't returning to March 2020; our immune systems will still recognize the highly mutated variant, albeit suboptimally," epidemiologist Katelyn Jetelina wrote in her Substack about the possible risks of BA.2.86. "This will protect a lot of us from severe disease."
"COVID Data Tracker." CDC. Accessed 25 Aug 2023.
"EG.5 Initial Risk Evaluation." WHO. 9 Aug 2023.
Tin, Alexander. "CDC says COVID variant EG.5 is now dominant, including strain some call 'Eris.'" CBS News. 7 Aug 2023.
LaMotte, Sandee. "It may be time to break out the masks against Covid, some experts say." CNN. 23 Aug 2023.
King, Michael. "Atlanta-based Morris Brown College says they are reinstating Covid mask mandates." CW69 Atlanta. 22 Aug 2023.
Andreeva, Nellie. "Lionsgate Reinstates Mask Mandate In Parts Of Santa Monica Office Following Covid Outbreak." Deadline. 21 Aug 2023.
Williamson, Elizabeth. "'We Told the Truth': Sandy Hook Families Win $1 Billion From Alex Jones." New York Times. 12 Oct 2022.
Williamson, Elizabeth. "With New Ruling, Sandy Hook Families Win Over $1.4 Billion From Alex Jones." New York Times. 10 Nov 2022.
Massie, Thomas (@RepThomasMassie). "If bureaucrats try to reinstate any COVID tyranny measures, resist them with a vengeance. Do not comply. They are not empowered by the Constitution to make laws that govern your lives, so it is they who will be engaged in disobedience." X. 25 Aug 2023.
Transportation Security Administration spokesperson. Email to FactCheck.org. 22 Aug 2023.
Parmet, Wendy E. Matthews Distinguished University Professor of Law and Faculty Director, Center for Health Policy and Law, Northeastern University. Phone interview with FactCheck.org. 23 Aug 2023.
Spinelli, Nick. CDC Media Support Branch. Emails to FactCheck.org. 25 and 25 Aug 2023.
"Expired Order: Wearing of face masks while on conveyances and at transportation hubs." CDC. Accessed 25 Aug 2023.
Raifman, Julia and Eleanor Murray. "The CDC's new mask guidance guarantees we'll be too slow for the next surge." Washington Post. 8 Mar 2022.
DeGuzman, Colleen. "The CDC's New Guidelines on Covid Risk and Masking Send Confounding Signals." KFF Health News. 9 Mar 2022.
Wasiluk, Jacqueline E. U.S. Customs and Border Protection. Email sent to FactCheck.org. 26 Aug 2023.
Smith, Dana G. "What to Know About the New Dominant Covid Variant." New York Times. 11 Aug 2023.
Katella, Kathy. "What to Know About EG.5 (Eris)—the Latest Coronavirus Strain." Yale Medicine. 18 Aug 2023.
Tin, Alexander. "New COVID vaccine and booster shots for this fall to be available by end of September." CBS News. 9 Aug 2023.
Tin, Alexander. "New COVID variants EG.5, FL.1.5.1 and BA.2.86 are spreading. Here's what to know." CBS News. 22 Aug 2023.
Abbasi, Jennifer. "What to Know About EG.5, the Latest SARS-CoV-2 'Variant of Interest.'" JAMA. 18 Aug 2023.
Bloom, Jesse (@jbloom_lab). "As has been noted already, this variant has lots of amino-acid mutations in spike: 33 relative to its putative ancestor BA.2. It is also very different from XBB.1.5. This makes it an evolutionary jump comparable in size to that which originally gave rise to Omicron." X. 16 Aug 2023.
"Risk Assessment Summary for SARS CoV-2 Sublineage BA.2.86." CDC. 23 Aug 2023.
Callaway, Ewen. "Why a highly mutated coronavirus variant has scientists on alert." Nature. 21 Aug 2023.
Jetelina, Katelyn. "A new variant: BA.2.86." Your Local Epidemiologist Substack. 22 Aug 2023.