When you click on our advertisements and purchase products or services through our links we earn a small commission.

Radio-controlled ground drones are being used by Ukraine to hunt tanks to counterbalance Russia's advantage of resources.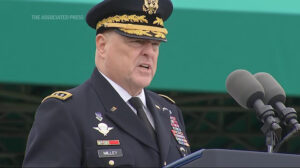 Army Gen. Mark Milley delivered a full-throated defense of democracy and not-so-subtle swipes at former President Donald Trump during a packed ceremony as he closed out his four, often tumultuous years as chairman of the Joint Chiefs of Staff.
ADVERTISEMENT - CONTINUE READING BELOW