When you make purchases through our links we may earn a small commission.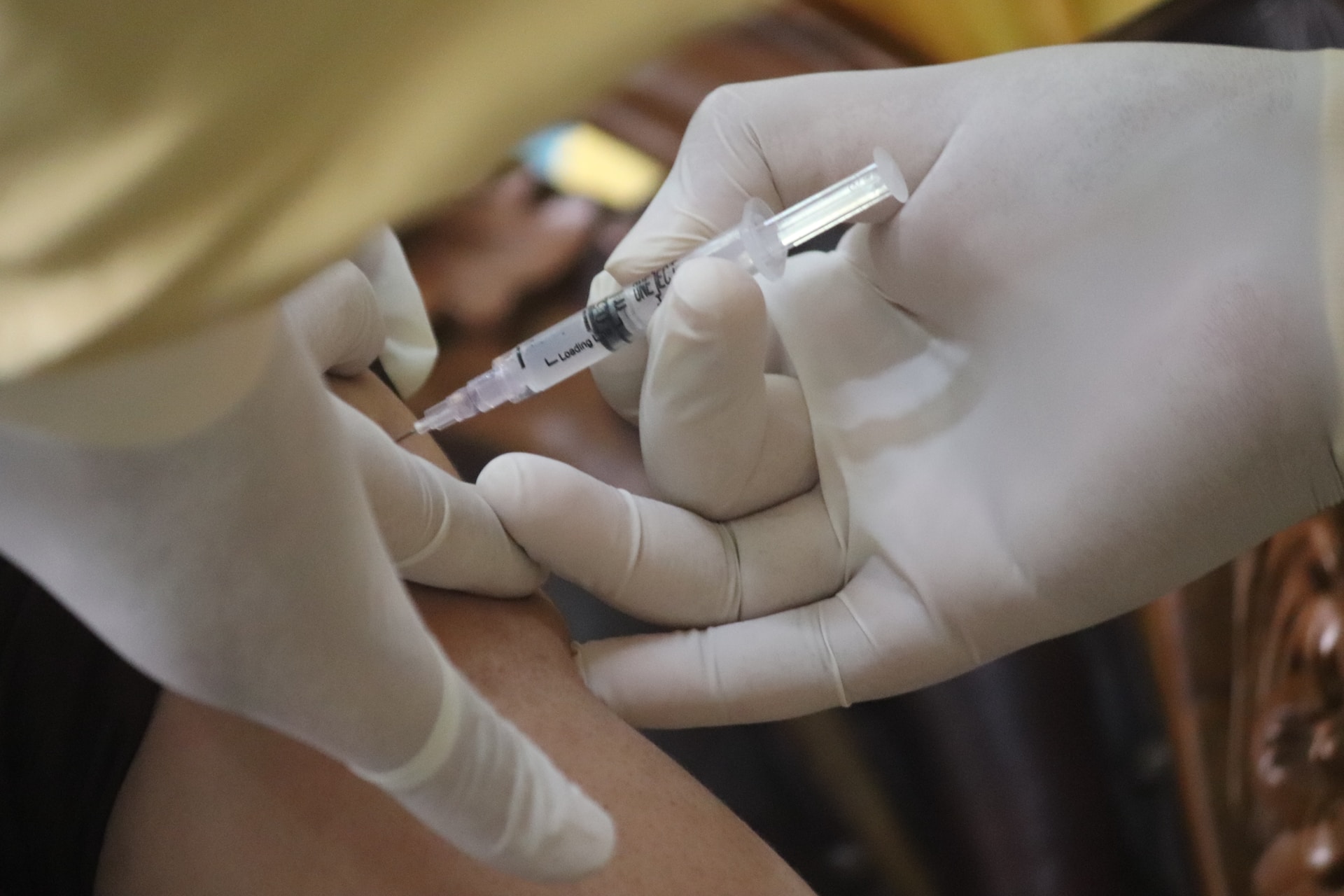 A video repeating the claim that COVID-19 vaccines are responsible for the sudden onset of various visible ailments — such as fainting and facial paralysis — is making the rounds, again. But, just like the other, similar posts we've addressed, there's no support for this one, either.
Despite a lack of evidence, the prevailing anti-vaccination claim that COVID-19 shots have caused the sudden onset of visible ailments — most commonly, collapsing — is still going strong.
We've debunked several versions of this claim over the years — including that athletes are collapsing at higher rates than they used to because of COVID-19 vaccination (they're not) and that people are dying suddenly of blood clots caused by the vaccines as part of a plot to depopulate the world (they're not).
This time the claim has been repackaged in a TikTok video that's garnered more than 2 million views and has been copied on other platforms, including Facebook.
The video splices together clips of Candace Owens, John MacArthur and Ice Cube — all of whom have expressed opposition to vaccines — with clips of about a dozen people experiencing some type of medical issue. Owens is a conservative political commentator and well-known anti-vaccine advocate; John MacArthur is a mega-church pastor who defied public health orders during the pandemic and provided his followers with religious-exemption forms for the vaccine; and Ice Cube is a rapper who claims to have been shut out of opportunities because he refused to get vaccinated against COVID-19. None of the incidents featured in the video have been tied to vaccination.
We'll walk through each of the examples in the video:
Royal guard: The video starts off with a rapid, three-second long burst of clips showing various people falling and a picture of actor Jamie Foxx (we'll get to him later). The first frame shows a British royal guard faint while watching over Queen Elizabeth II's coffin in 2022.
The incident happened at about 12:30 a.m. on the first of five nights in which the queen was lying in state.
"A member of the vigil was temporarily taken unwell and had to withdraw from the vigil," the House of Lords told Newsweek at the time.
The official didn't specify what had caused the incident, but guards complete six-hour shifts so that the coffin is attended 24-hours a day. It's not uncommon for guards to faint in the midst of ceremonial duties — at least three passed out in June while practicing for King Charles' birthday parade in nearly 90-degree heat.
During preparation for the wedding of Prince William and Kate Middleton in 2011, the British newspaper the Daily Express published a story with the headline, "Royal guards who are taught how to faint." The article explained that guards must "faint to attention," falling forward rather than backward.
Garrison Sergeant-Major Billy Mott, the chief drill instructor for the wedding, recommended that guards start the day with a five-mile run, a good breakfast, plenty of water and "a lot of toe wiggling and calf-tensing" in order to avoid fainting while they are standing in position for hours at a time.
"If you are resting on your heels the blood doesn't flow back to the brain," Mott said. Major Dai Bevan, who was also involved in directing the wedding fanfare, said that he does equations in his head in order to stay alert and avoid fainting.
In 2022, the British Army studied fainting among guards by having 10 of them wear high-tech vests to collect physiological data during an event that June.
"Soldiers on hot parade grounds have historically been trained to sway backward and forwards or clench their muscles and ensure they're fully hydrated," the Army wrote in a post about the study, explaining how guards have been trained to avoid fainting.
Stand-up comedian: Next is a clip showing comedian Heather McDonald pass out on stageduring a show in Tempe, Arizona in February 2022.
McDonald had been making a joke that started by saying she'd been vaccinated against COVID-19 and then, within seconds, had fallen to the floor.
This incident has been widely used by anti-vaccine advocates to claim that there's a connection between the shots and sudden collapse, but McDonald has been vocal from the beginning explaining that her fall had nothing to do with vaccination.
"American Idol" contestant: Another short clip in this section shows Funke Lagoke — a contestant on the reality show "American Idol" — faint as she receives feedback from the judges in March 2021.
She was reportedly hospitalized for dehydration and took to Instagram the next day to talk about the incident. She made no mention of vaccination.
Los Angeles meteorologist: The first lengthy example in the video shows Alissa Carlson — a meteorologist for the Los Angeles CBS affiliate, KCAL News — faint during a March 18 newscast.
Above the clip included in the TikTok video is text that says, "WEATHER WOMAN COLLAPSES ON LIVE TV."
It's true that Carlson fainted on television, but there's nothing to suggest that the episode was related to vaccination.
Rather, Carlson explained afterward, she has a leaky heart valve and has been diagnosed with vasovagal syncope, which is fainting due to an overreaction by the body to certain triggers.
"I do have a history of fainting," Carlson told the hosts of "CBS Mornings" on March 21. "It's just when you're on a public platform, sometimes it happens and people now see this," she said, referring to the clips of her episode that have been circulating online.
Carlson reported that her doctor attributed the episode to vasovagal syncope and made no mention of vaccination at all.
Soccer analyst: Next up is a clip showing ESPN soccer analyst Shaka Hislop pass out just before a July 23 game.
The following day, Hislop — looking healthy — posted a video saying, "Well, that was awkward."
He thanked his family, friends, and fans for their support. "Every so often life gives you moment to pause and this was mine," he said, explaining that he would "seek out the best medical opinion that I can get and listen to what my doctors have to say."
Hislop hasn't provided any updated on what doctors have said may have caused his collapse, but there's nothing to suggest that it was vaccine related.
Danish health official: The next clip shows Tanja Erichsen, a Danish health official, pass out during a press conference in April 2021.
False claims that Erichsen was having a reaction to a COVID-19 vaccine have circulated before. But, as the Danish fact-checking website TjekDet wrote in 2021, Erichsen hadn't even been vaccinated against the disease at the time of the incident.
Kim Voigt Østrøm, a spokesperson for the Danish Medicines Agency, told TjekDet that Erichsen hadn't yet been vaccinated, "So all speculation about a connection in that direction has no basis."
Like most countries, Denmark started rolling out the vaccines to the most vulnerable populations in late 2020 through early 2021.
Tiffany Dover: Next up is one of the very first clips to be used in furtherance of this type of claim — a deceptively edited video from late December 2020 showing one of the first nurses to get a COVID-19 shot at CHI Memorial Hospital in Chattanooga, Tennessee.
The nurse, Tiffany Dover, explained shortly after she fainted, "I have a history of having an overactive vagal response and, so, with that, if I have pain from anything — hang nail or I stub my toe — I can just pass out."
We wrote about the clip and associated claims on Dec. 18, 2020 and, since then, it's been used repeatedly to suggest that there's something dangerous about the vaccines as well as becoming the center of a conspiracy theory that claims Dover actually died. She didn't. That claim was covered in depth in a recent podcast series from NBC News.
The clip of Dover fainting doesn't indicate anything about the safety of the vaccines, rather it just shows a person with a history of fainting after she experiences minor pain.
"NCIS" actress: Next is a clip showing actress Pauley Perrette, best known for her role in CBS' crime drama "NCIS," telling her Twitter followers that she'd had a stroke in September 2021.
Stroke is the fifth leading cause of death in women, according to the Centers for Disease Control and Prevention, and one-fifth of women between the ages of 55 and 75 will have one. Perrette was 52 at the time of her stroke.
Factors that increase the risk of a stroke include high blood pressure, smoking, and certain types of birth control, according to the CDC.
Perrette spoke to "Entertainment Tonight" a year after her stroke and encouraged people to learn the symptoms of a stroke so that they can get treatment quickly.
"[I] really want people to get educated about all signs of a stroke, especially that you can have one at any age! By knowing signs of a stroke, we can save ourselves and others," she said.
There's no evidence that Perrette's stroke was related to vaccination.
Bronny James: The following example is one of the most recent: Basketball star LeBron James' son, who goes by Bronny James, suffered cardiac arrest during a college basketball practice on July 24. The cause hasn't been publicly released.
Dr. Celine Gounder — a senior fellow at the Kaiser Family Foundation and a medical contributor for CBS News — recently discussed possible causes of James' condition, including hypertrophic cardiomyopathy, which is when there's a thickening of the heart muscle, and genetic arrhythmia, which is an abnormal heart rhythm inherited through genetics. 
"I want to be very clear — this has nothing to do with COVID-19 vaccines," said Gounder, who had to deal with similar false claims after her husband died of an aneurysm in December.
"Over 80% of the American population has now had a COVID vaccination, if not more than one," she said, explaining that associating a medical event like James' with vaccination "would be like saying, you know, I need my tooth pulled out next week, that must be because I had COVID vaccination."
"These are unrelated events," she said, "but this is straight out of the anti-vaxx playbook to say, 'well, just asking questions.'"
"The intent here is to sow confusion," Gounder said.
Other fact checkers have addressed this claim and a recent study published in the British Journal of Sports Medicine found that athletes are not at increased risk for heart complications after vaccination.
Damar Hamlin: A similar example comes next in the TikTok video: the collapse of Buffalo Bills' safety Damar Hamlin, who suffered from commotio cordis during a game on Jan. 2 after being hit in the chest. Commotio cordis can occur when a blow to the chest disrupts the heartbeat and causes cardiac arrest.
This is another one that we've written about before, when social media users began posting baseless claims that his ailment was the result of vaccination.
As we wrote at the time, "this is not something that people should go speculate about vaccines or anything like that causing this cardiac arrest," Dr. Brian Sutterer, a physical medicine and rehabilitation specialist, said in a YouTube video. "There was a clear contact, a clear trauma, and I think a clear reason why, unfortunately, this happened for Hamlin."
Tori Kelly: Then the video plays clips reporting that Grammy-award winning singer Tori Kelly was recently hospitalized for blood clots.
It's true that she was hospitalized on July 24 and she confirmed on Instagram that she's been dealing with "some unexpected health challenges." She has since been released from the hospital and announced an upcoming tour.
On the July 25 episode of "Good Morning America," ABC News chief medical correspondent Dr. Jennifer Ashton said of blood clots, "It absolutely can happen in young people," noting that blood clots kill up to 100,000 people annually in the U.S.
"The medical term, deep vein thrombosis or pulmonary embolism, that's when a clot forms — sometimes in the lower extremity, in the venous circulation, in the leg — and then travels up to the heart, gets lodged in the lung. It can travel to the brain, it can cause a stroke, a heart attack. This is a significant issue and it is a medical emergency," Ashton said.
"I think that the most important thing for people to understand is that, yes, it can happen to young people — particularly women on birth control, hormones, after surgery, if they sit at a desk job, prolonged travel, or immobilization," she said.
There's no evidence that Kelly's condition has anything to do with vaccination and, in fact, neither of the two mRNA vaccines available in the U.S. — which account for the vast majority of doses — has been linked to clotting, as we've explained before.
The Biebers: The TikTok video also repeats a pair of claims about health problems suffered by the celebrity couple Justin and Hailey Bieber — both of which we've addressed.
Justin Bieber cancelled some shows in June 2022 because he had developed Ramsay Hunt syndrome, which is caused by the chickenpox virus. As we explained at the time, Ramsay Hunt syndrome is similar to shingles in that it occurs when the virus reactivates and affects the facial nerve, often causing facial paralysis.
In March of that year, Hailey Bieber had a mini stroke and, as we said at the time, she explained in an April 27 YouTube video that her doctors attributed the clot that caused the stroke to a "perfect storm" of three factors.
"One was that I had just recently started birth control pills, which I should have never been on because I am somebody who suffered from migraines anyway, and I just did not talk to my doctor about this," she said. "The second thing was I had recently had COVID, and that was something that they thought was a contributing factor. And the third thing was that I had recently gone on a really long flight — I had flown to Paris and back in a very short amount of time — and I slept through the whole flight both ways, didn't get up and move around, never thought about wearing compression socks."
She never mentioned vaccination and there's no evidence linking either of the couple's conditions to the shot.
Basketball commentator: Bob Rathbun, the announcer for the Atlanta Hawks, had been sick before a game on Dec. 5, 2022, but thought he could still perform before going home. Shortly after he took his seat for a pre-game discussion, though, he had an episode that looked like a seizure.
"Emergency medical professionals on-site quickly treated Rathbun for dehydration," the Hawks said in a statement at the time. "He is stable, responsive and heading to Emory Midtown for further evaluation."
He was put through a battery of tests and doctors concluded that "the vomiting and dehydration, a drop in his magnesium levels and his blood pressure contributed to a perfectly horrible storm in his body and led to the collapse," according to The Athletic, which interviewed him about the incident about a week later. "He was given fluids and eventually recovered."
There was no mention of vaccination.
Jamie Foxx: Finally, the video repeats a claim made by gossip columnist A.J. Benza about actor Jamie Foxx, who was hospitalized for what his representative called a "medical emergency" in April.
Benza, among others, then claimed that Foxx's emergency was caused by COVID-19 vaccination. But, while Foxx's representatives haven't disclosed what kind of health emergency he had, they have called Benza's claim "completely inaccurate."
So, as with the other examples used in the TikTok video, there's nothing linking vaccination to Foxx's condition.
Hale Spencer, Saranac. "No Surge in Athlete Deaths, Contrary to Widespread Anti-Vaccine Claims." FactCheck.org. Updated 19 Apr 2023.
Hale Spencer, Saranac, Jessica McDonald and Catalina Jaramillo. "'Died Suddenly' Pushes Bogus Depopulation Theory." FactCheck.org. 1 Dec 2022.
Department for Culture, Media & Sport. "Her Majesty The Queen's Lying-in-State at the Palace of Westminster (Houses of Parliament)." Gov.UK. Updated 18 Sep 2022.
Burton, Jamie. "Queen's Guard Collapses: How Long Are British Guards' Shifts?" Newsweek. 15 Sep 2022.
Coghlan, Tom. "Royal guards who are taught how to faint." Express. 22 Apr 2011.
British Army. Press release. "Fainting phenomenon researched by Soldiers wearing NASA style vests at Queen's Birthday Parade." 10 Jun 2022.
Robinson, KiMi. "'I have 2 completely black eyes': Heather McDonald describes fainting onstage in Arizona." Arizona Republic. 9 Feb 2022.
Collins, Ben. "Heather McDonald's on-stage collapse became anti-vaccine fodder, but she's alive and joking." NBC News. 31 Mar 2023.
Ushe, Naledi. "'American Idol' Contestant Passes Out While Receiving Judges' Feedback, Hospitalized for Dehydration." People. 23 Mar 2021.
Keegan, Kayla. "'American Idol' Contestant Funke Lagoke Breaks Silence on Instagram After Fainting on Stage." Good Housekeeping. 23 Mar 2021.
KCAL News. "Update on KCAL News Meteorologist Alissa Carlson." Updated 18 Mar 2023.
CBS Mornings (@CBSMornings). "KCAL-TV meteorologist Alissa Carlson describes what happened before she fainted on live TV." YouTube. 21 Mar 2023.
ESPN FC (@ESPNFC). "Shaka Hislop gives an update on his condition." X. 24 Jul 2023.
BBC. "Denmark official Tanja Erichsen faints during a Covid conference." 14 Apr 2021.
AFP Indonesia. "A Danish health official who fainted at a press conference later said she was fine." Updated 24 Nov 2021.
Damgaard Frisch, Nathalie. "Fake news is circulating in Greece that the head of the Danish Medicines Agency has died after feeling unwell." TjekDet. 21 Apr 2021.
Danish Health Authority. The COVID-19 vaccination programme. As archived 5 Jan 2021.
Local 3 News (@WRCBvideos). "Critical care nurse at CHI Memorial explains her fainting after COVID-19 vaccine." YouTube. 18 Dec 2020.
Hale Spencer, Saranac. "Anti-Vaccine Posts Use Deceptively Edited Video Clip." FactCheck.org. Updated 4 Jan 2021.
Perrette, Pauley (@PauleyP). "It's 9/2 One year ago I had a massive stoke…" X. 2 Sep 2022.
Centers for Disease Control and Prevention. Women and Stroke. Updated 4 May 2023.
Schillaci‍, Sophie. "Pauley Perrette Reveals How She First Realized She Was Having a Stroke and What Saved Her Life (Exclusive)." Entertainment Tonight. 6 Sep 2022.
Cedars-Sinai Medical Group. Press release. "Statement Regarding Bronny James." 27 Jul 2023.
Novak, Analisa. "What causes cardiac arrest in young, seemingly healthy athletes like Bronny James? Dr. Celine Gounder explains." CBS News. 26 Jul 2023.
Hale Spencer, Saranac. "Grant Wahl Died from Aortic Aneurysm, No Link to COVID-19 Vaccine." FactCheck.org. 16 Dec 2022.
Associated Press. "Hamlin says blow to chest caused cardiac arrest on field." 18 Apr 2023.
McDonald, Jessica. "NFL Player Damar Hamlin's Cardiac Arrest Triggers Unfounded Social Media Claims." FactCheck.org. Updated 19 Apr 2023.
Kely, Tori, (@torikelly). "deuteronomy 31:8." Instagram. 27 Jul 2023.
Centers for Disease Control and Prevention. "Impact of Blood Clots on the United States." Updated 28 Jun 2023.
Good Morning America (@GMA). "Tori Kelly hospitalized for reported blood clots: What to know." YouTube. 25 Jul 2023.
McDonald, Jessica. "Social Media Swirls With Unsupported Claims About Cause of Justin and Hailey Bieber's Medical Conditions." FactCheck.org. 22 Jun 2022.
Rhode Bieber, Hailey (@HaileyRhodeBieber). "telling my story." YouTube. 27 Apr 2022.
Schultz, Jeff. "Schultz: Hawks' Bob Rathbun can't wait to get back to work after health scare." The Athletic. 13 Dec 2022.
Dasrath, Diana and Liz Calvario. "Jamie Foxx was hospitalized after a 'medical emergency,' rep says." Updated 13 Apr 2023.
Teoh, Flora. "No evidence that COVID-19 vaccination left actor Jamie Foxx "paralyzed and blind" from brain blood clot." Health Feedback. 2 Jun 2023.
Rosenblatt, Kalhan. "An unsubstantiated claim that Jamie Foxx was hospitalized after a Covid vaccination is going viral on social media." NBC News. Updated 7 Jun 2023.