When you make purchases through our links we may earn a small commission.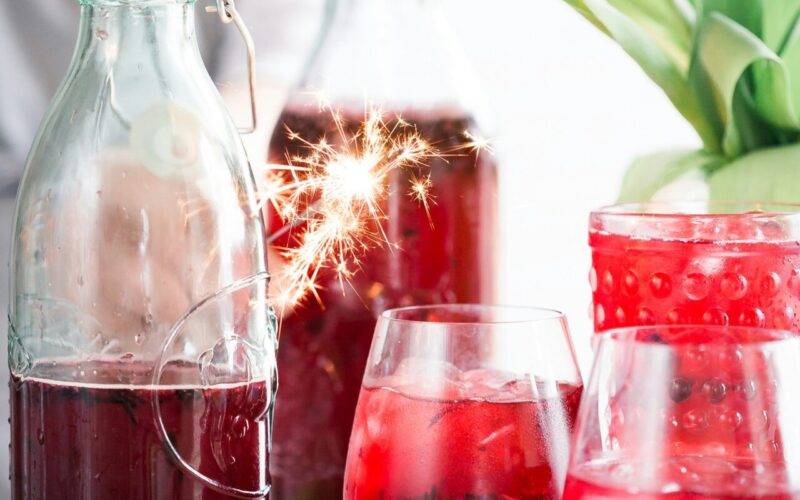 Indulge in the world of wine cocktails with our connoisseur's guide. From timeless classics like Sangria and Kir Royale to modern delights like the Berry Basil Wine Spritzer and Ginger Peach Rosé Sangria, discover 52 exquisite wine-based concoctions that elevate the art of mixology. Uncover the versatility and sophistication of wine in each sip. Cheers to the perfect blend of elegance and flavor!
Wine, known for its elegance and diversity, takes center stage in the world of mixology with a plethora of delightful wine cocktails. Whether you're a wine enthusiast seeking a new twist or a cocktail aficionado looking for refined options, the world of wine cocktails offers a symphony of flavors. Join us on a journey through classic favorites and modern creations that showcase the versatility of wine in mixology.
A timeless classic, Sangria is a festive and fruity concoction that combines red wine, brandy, and a medley of fresh fruits. It's a refreshing and sociable drink that captures the essence of laid-back gatherings.
Elevate your champagne experience with the Kir Royale. This classic cocktail combines sparkling wine with crème de cassis, creating a sophisticated and effervescent drink.
Brunch perfection in a glass, the Mimosa blends sparkling wine with chilled citrus juice, typically orange. It's a light and bubbly option that adds a touch of elegance to any mid-morning occasion.
Berry Basil Wine Spritzer
For a modern twist, try the Berry Basil Wine Spritzer. White wine, mixed berries, and fresh basil combine to create a refreshing and aromatic drink that's perfect for warm days.
Ginger Peach Rosé Sangria
Embrace the flavors of summer with the Ginger Peach Rosé Sangria. Rosé wine, peach schnapps, and ginger ale come together in a delightful concoction that's both sweet and spicy.
Citrus White Wine Sangria
Add a zesty kick to your Sangria with the Citrus White Wine Sangria. White wine, citrus fruits, and a splash of citrus liqueur create a bright and invigorating drink.
Exploring the Full Spectrum
As you delve into the world of wine cocktails, consider trying the bold flavors of the Red Wine Manhattan, the floral notes of the Elderflower Wine Spritz, or the exotic blend of the Tropical Wine Punch. The possibilities are as diverse as the grape varietals in your favorite bottle.
Aperol Spritz
Basil Lemon Wine Cooler
Blackberry Cabernet Mojito
Blood Orange Rosé Sangria
Blueberry Lemonade Wine Slushie
Champagne Cobbler
Cherry Merlot Fizz
Citrusy Moscato Mule
Coconut White Wine Pina Colada
Cranberry Prosecco Punch
Elderflower Wine Spritz
Grapefruit Rosé Paloma
Green Apple Riesling Slush
Honeydew Mint Wine Cooler
Kiwi Prosecco Smash
Lavender Lemon Wine Fizz
Mango Chardonnay Slushie
Mango Tango Wine Slush
Melon Ball White Wine Sangria
Minty Moscato Lemonade
Orange Blossom Prosecco Cocktail
Passion Fruit Wine Slushie
Peach Bellini
Pineapple Basil Sparkling Wine Cooler
Raspberry Rosé Lemonade
Red Wine Manhattan
Rosemary Citrus Sparkler
Rosé Sangria Spritzer
Sparkling Blueberry Mint Lemonade
Sparkling Mojito
Sparkling Raspberry Lemonade
Spicy Grapefruit Wine Spritzer
Strawberry Basil Prosecco Smash
Strawberry Merlot Slushie
Summer Berry Sangria
Summer Rosé Punch
Sweet Tea Wine Punch
Tangerine Prosecco Sorbet Float
Tropical Wine Punch
Vanilla Chardonnay Milkshake
Watermelon Mint Wine Slush
White Sangria Popsicles
White Wine and Berry Punch
White Wine Peach Sangria
White Wine Strawberry Lemonade
Wine Mojito
Wine Slushie
Winter Spiced Mulled Wine
Whether you prefer the classic charm of a Kir Royale or the modern flair of a Berry Basil Wine Spritzer, the world of wine cocktails is a delightful journey of flavors. Experiment with different recipes, explore unique combinations, and raise a glass to the timeless and ever-evolving world of wine mixology. Cheers to the art of crafting and savoring the perfect wine cocktail!
You'll get more articles like this – and our favorite promotional offers delivered straight to your inbox.